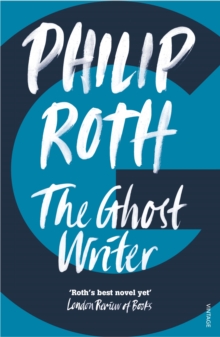 The Ghost Writer
Paperback
Description
When talented young writer Nathan Zuckerman makes his pilgrimage to sit at the feet of his hero, the reclusive master of American Literature, E.
I. Lonoff, he soon finds himself enmeshed in the great Jewish writer's domestic life, with all its complexity, artifice and drive for artistic truth.
As Nathan sits in breathlessly awkward conversation with his idol, a glimpse of a dark-haired beauty through a closing doorway leaves him reeling.
He soon learns that the entrancing vision is Amy Bellette, but her position in the Lonoff household - student? mistress? - remains tantalisingly unclear. Over a disturbed and confusing dinner, Nathan gleans snippets of Amy's haunting Jewish background, and begins to draw his own fantastical conclusions...
Information
Format: Paperback
Pages: 192 pages
Publisher: Vintage Publishing
Publication Date: 01/06/2005
ISBN: 9780099477570
Other Formats
EPUB from £3.99
eAudiobook MP3 from £14.24
Free Home Delivery
on all orders
Pick up orders
from local bookshops
Reviews
Showing 1 - 5 of 5 reviews.
Review by msbaba
16/06/2015
I recently read <i>Exit Ghost,</i> the last book in the Zuckerman series, and vowed I would read the first book in the series, <i>Ghost Writer,</i> because I wanted to uncover whatever parallels I might find that would further my enjoyment and understanding. Let me say from the beginning that I thoroughly enjoyed both books. There is hardly a page of Roth's writing that doesn't amuse, fascinate, enthrall, or generally cause my brain to flare up with pure intellectual delight. Roth is surely a national literary treasure.<i>Ghost Writer</i> is a novella about authors, the process of creative writing, and the nature, meaning, and techniques of fiction itself. The overall plot of <i>Ghost Writer</i> is simple, but it masks layers of thematic complexity. The story concerns accomplished, successful 43-year-old author Nathan Zuckerman, reminiscing about his first meeting as a 23-year-old aspiring author with his idol, the famous, but reclusive writer E. I. (Manny) Lonoff. Zuckerman manages to get an invitation to the author's home in the Berkshire countryside. There he meets Lonoff, his wife, Hope, and Lonoff's beautiful young assistant, Amy Bellette. It is obvious from the conversations he hears directly, as well as those he overhears in private, that bald, hefty 60-plus-year-old Lonoff appears to be having some type of strange love affair with his beautiful college-age assistant, and that his wife is well aware of this fact. Zuckerman is strongly attracted to Amy and has wild fantasies about her past as a Jewish war orphan, as well as about her current relationship with Lonoff. During his visit, a winter storm arrives making travel difficult. Lonoff politely invites the young writer to spend the night on the day bed in his study. Zuckerman accepts, but is too excited to sleep. During his long night alone in Lonoff's study, we enter Zuckerman's mind as he speculates, fantasizes, and toys with all the random resonant chords of memory that float up to his consciousness, and spin out of his fertile mind as fully perfected stories. Over the course of the evening and the next morning, Zuckerman begins to see that his idol is not a very good human being. Lonoff may be a great writer, but he has completely sacrificed his life, and the lives of those near and dear to him, for the sake of his art. He is monomaniacally self-absorbed—a man who lives entirely through his art. Zuckerman also learns that Amy Bellette actually believes that she is Anne Frank hiding from the world under a false name because, if the world knew that she was alive, the impact and validity of her literary art would be put in question. Thus, even though she is obviously under some type of crazed self-delusion, Amy is also another artist sacrificing her life for her art. On Lonoff's desk is a quote from yet another literary giant of self-sacrifice, Henry James: "We work in the dark—we do what we can—we give what we have. Our doubt is our passion and our passion is our task. The rest is the madness of art." Toward the end of the novella, Hope Lonoff packs her bags and walks out on her husband of 35 years. She is fed up with the fact that her husband is having an affair with his young assistant. Roth creates a priceless scene of total rage. The voice is spot-on perfect! And, for one who failed to read Roth for more than 30 years precisely because I felt he had no message that a feminist like myself might want to hear, I was amazed to read breath-taking accuracy in Hope Lonoff's raging dialog. This dialog has my vote for being one of the best tongue-lashings in contemporary fiction from a wife against a cheating husband. While exiting their home with her bags packed, she faces Lonoff, Amy, and Zuckerman and rages: "she thinks it will all be the religion of art up here. Oh! Will it ever! Let her try to please you, Manny! Let her serve as the backdrop for your thoughts for thirty-five years. Let her see how noble and heroic you are by the twenty-seventh draft… Yes, have her run hot baths for your poor back twice a day and then go a week without being talked to—let alone being touched in bed…I'm going to Boston. I'm going to Europe. It's too late to touch me now. I'm taking a trip around the world and never coming back. And you!...You won't go anywhere, you won't see anything, you won't even go out to dinner...There is his religion of art, my young successor—rejecting life! Not living is what he makes his beautiful fiction out of, and you will now be the person who he is not living with." So, not only is this novel about the art and the process of fiction, it is also a work about one very important day in the life of a budding young creative writer—the day he meets, and subsequently rejects his literary idol, and in the process, comes into his own literary manhood. No longer an insecure, budding author needing a mentor, he leaves Lonoff's house a self-secure adult—a man certain of his successful life ahead as a creative writer, and equally confident that he will be able to achieve this goal while still maintaining a whole life. Unlike Lonoff, Zuckerman will be a writer that will still be connected to the world, and therefore in a better position to translate that connectivity into artful prose. There are many parallels between <i>Ghost Writer</i> and <i>Exit Ghost.</i> If you haven't read the last book in the Zuckerman series, <i>Exit Ghost,</i> I do not want to spoil it by telling you how the themes and characters in <i>Ghost Writer</i> reappear, but trust me, the effect is intellectually dazzling! In the end, the Zuckerman series comes full circle…as only great fiction can. I heartily recommend reading these two books. I read them out of order; personally, I don't think it matters in which order they are read. And, yes, for the curious out there, I certainly do plan to read the rest of the books in this series…but not all at once. With this author, I would rather savor each book with a half a dozen or more lighter books by other writers in between. I do that with all the authors I love best. It makes coming back to the best all that more satisfying.
Review by miriamparker
16/06/2015
I loved EXIT GHOST last winter and I recently discovered that it was a sequel to THE GHOST WRITER. So, kind of Star Wars Episode I-esque, I read the first book AFTER the second...which is kind of fun. I just kept thinking "I know what happens to you when you get old." Anyway, it's an interesting book in that nothing actually really HAPPENS (Zuckerman has a drink with his hero, Lonoff and crashes in Lonoff's study). BUT, it is still completely suspense-ridden. AND I had already read the sequel. Plus, there's the amazing section in which it appears that Anne Frank is not really dead, but is just hiding out and watching herself become an icon of her generation. Needless to say, it's very anxiety inducing. Check this one out if you are interested in reading about really neurotic people.
Review by sonyau
16/06/2015
I have read the Zuckerman books that comprise American Pastoral, I Married a Communist, and The Human Stain. I've always wanted to go back and start from the beginning, which is this book. It's slim and beautiful, divided into four movements, the recounting of the necessity to break from the family in order to grown into an artist. This would be a good book club selection, lots to talk about from the artifices of fiction to the very relatable quandry of how to defy one's own sense of history and familial expectations.
Review by JohnGrant1
16/06/2015

This is a minor work: not so much a novel as a series of three linked novellas (plus a short coda). The third of the novellas -- in which the tyro novelist Nathan Zuckerman convinces himself that a young woman for whom he's developed the hots is in fact a survived Anne Frank, or perhaps just someone who believes so much that she's Anne Frank as to make herself so -- is by far the most impressive of the three. The book struck a definite chord with me since I've recently been working painfully slowly on a novella about ghostwriters.

Review by stillatim
16/06/2015
Yeah, um... don't see the genius in this one. I'm mainly reading it so I can read Z Unbound, which everyone says is fantastic. Right now I'm not exactly hopping with enthusiasm though- this is an okay long short story with a torturous, unsubtle and unnecessary third chapter added in. I guess if you're really into the psychology of the author and so on you'll get a lot out of it? If you're interested in literature which isn't about literature... go with the hilarious Portnoy's Complaint instead.