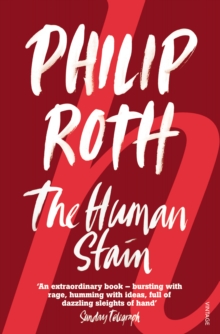 The Human Stain
Paperback
Description
'The work of a genius at full throttle' Sunday TelegraphIt is 1998, the year America is plunged into a frenzy of prurience by the impeachment of a president, and in a small New England town a distinguished classics professor, Coleman Silk, is forced to retire when his colleagues allege that he is a racist.
The charge is unfounded, the persecution needless, but the truth about Silk would astonish even his most virulent accuser.
Coleman Silk has a secret, one which has been kept for fifty years from his wife, his four children, his colleagues, and his friends, including the writer Nathan Zuckerman.
It is Zuckerman who comes upon Silk's secret, and sets out to unearth his former buried life, piecing the biographical fragments back together.
This is against backdrop of seismic shifts in American history, which take on real, human urgency as Zuckerman discovers more and more about Silk's past and his futile search for renewal and regeneration.
Information
Format: Paperback
Pages: 384 pages
Publisher: Vintage Publishing
Publication Date: 05/04/2001
ISBN: 9780099282198
Free Home Delivery
on all orders
Pick up orders
from local bookshops
Reviews
Showing 1 - 5 of 7 reviews.
Previous | Next
Review by ragwaine
16/06/2015
The characters are so real it's like you lived with them. His writing is really great.
Review by kambrogi
16/06/2015
My first book by Roth, it is heavy stuff: complex and disturbing, with a dense and difficult writing style that is also awe-inspiring. The characters and the story are powerful and thought-provoking, very much alive on the page. Reminiscent of [Sophie's Choice], by William Styron, its narrator is removed from the action, and the tale deals with secrets and tragedies which are very much bound up with the worst problems of American society. An important read.
Review by mrstreme
16/06/2015
I wish I could have read <i>The Human Stain</i> in college with a talented professor and insightful fellow students. This book has so many lively discussion points - it's a shame to read it alone. It's your typical "hard" college read - lots of literary devices, character development and narrative interpretations. As you peel away these literary layers, you are left with an interesting story that explores race, betrayal and envy - things that can leave a stain on a human heart.<i>The Human Stain</i> is a story about Coleman Silk, a seventy-one year old man who had a prestigious career as a college dean, leading his small college into a progressive institution, and rising to academic ranks unheard of by a Jewish man at that time. Before retirement, he decides to return to the classroom, where he makes a comment that is interpreted to be a racial slur against African Americans. The college officials side with the students and formally investigate Coleman. Outraged, Coleman resigns. Ironically, unknown to his peers and family, Coleman Silk is really an African American, "passing" as a Jewish man for more than forty years. "Passing" because he knew that he could not succeed as a black man in academics, because he wanted to do better than his father, because he was "more white than white men."Bitter, Coleman turns to a housekeeper/dairy maid who is forty years his junior, and they begin a torrid affair that will eventually lead to the complete demise of Coleman Silk.Narrated by Roth's long-time character, Nathan Zuckerman, this novel is a complex read with stream of consciousness (usually happening among many characters without introduction, so you have to guess who is thinking) and references to ancient Greek and Latin literature. Despite this, the novel sucks you in because the story is so enthralling and the characters are so real. One hundred years from now, college kids will be reading Philip Roth, much like kids now read John Steinbeck or F. Scott Fitzgerald, because Roth represents smart fiction from this era. If you read <i>The Human Stain</i> prepare to have your brain muscles flexed. It will leave you feeling wiser.
Review by tsutsik
16/06/2015
One of the best books I've read this year. I got hooked to the Zuckerman identy of Roth after reading 'exit ghost' - and I'm reading now more or less backwards the earlier books with Zuckerman. I'm suspecting now you can only really appreciate Roth if you have some life experience. I do remember I've tried to read a book of his when I was about 17 years old, but dropped it after twenty pages or so. (I can't remember the title, It was about a baseball team. Am bound to rediscover it soon).This book is a tribute to Zuckerman's neighbour in upstate New York Coleman Silk; former dean of a college which he has almost single-handed brought to fame, but which has let him down after his allegedly racial abuse against two afro-american students. This provides a starting point for a really startling story about.. yes about what? I think about human identity and the ways we try to carve out a position for ourselves in the world, of making a success of ourselves. Central sentence for me: "The truth about us is endless..". The tragedy of Coleman Silk is that the way he has chosen to fulfil his life requires total obliteration of his former self and identity. Although the atmosphere is dark and sad, the compassion, almost love, which Zuckerman shows when telling the story was very moving.
Review by Rynooo
16/06/2015
Angry and cerebral but a little dry for my taste.