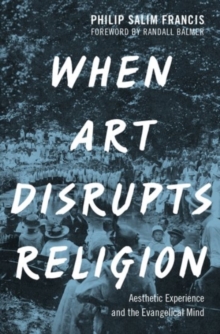 When Art Disrupts Religion : Aesthetic Experience and the Evangelical Mind
Hardback
Description
When Art Disrupts Religion opens at London's Tate Modern Museum, with a young Evangelical man contemplating a painting by Mark Rothko, an aesthetic experience that proves disruptive to his religious life.
Without those moments with Rothko, he says, "there never would have been an undoing of my conservative Evangelical worldview." The memoirs, interviews, and ethnographic field notes gathered by Philip Francis for this book lay bare the power of the arts tounsettle and overturn deeply ingrained religious beliefs and practices.
Francis explores the aesthetic disturbances of more than 80 Evangelical respondants.
From the paintings of Rothko to the films of Ingmar Bergman, from The Brothers Karamozov to The Freewheelin' Bob Dylan, Francis finds that the artsfunction as sites of "defamiliarization," "comfort in uncertainty," "a stand-in for faith" and a "surrogate transcendence." Bridging the gap between aesthetic theory and lived religion, this book sheds light on the complex interrelationship of religion and art in the modern West, and the role of the arts in education and social life.
Information
Format: Hardback
Pages: 232 pages
Publisher: Oxford University Press Inc
Publication Date: 11/05/2017
ISBN: 9780190279769