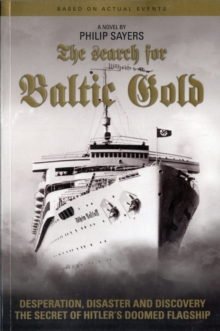 The Search for Baltic Gold : Desperation, Disaster and Discovery the Secret of Hitler's Doomed Flagship
Paperback
Description
Looted art treasures, Nazi gold, shipwrecks and underwater action.
This tremendous tale of diving exploits and second world war history has it all. January 1945 - Surrounded by the Red Army and facing certain defeat, the infamous Nazi Reichscommissioner, Erich Koch, organizes the disappearance of fabulous treasures from the castle museum in Konigsberg, then escapes the doomed city by sea.
Thousands of panic stricken refugees storm the transport ships and Rudi Kurze, a survivor of the largest maritime disaster in history, witnesses the loading of a secret cargo the night before they attempt to escape across submarine-infested waters. In 1988 the British salvage diver Davis Carter discovers an untouched wreck off the Polish coast.
Marietta, a maritime art historian and Rudi accompany him on a dangerous diving expedition to the Stolpebank.
An old secret, shared only by him and one other survivor haunts his memory as they search the wreck for sunken treasure.
Information
Format: Paperback
Pages: 421 pages
Publisher: AquaPress
Publication Date: 19/11/2012
Category: Historical fiction
ISBN: 9781905492275
Free Home Delivery
on all orders
Pick up orders
from local bookshops