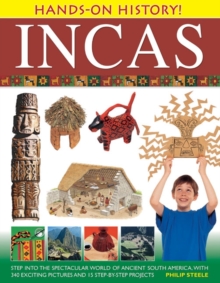 Hands On History: Inca's
Paperback / softback
Description
This title helps you step into the spectacular world of ancient South America, with 340 exciting pictures and 15 step-by-step projects.
You can journey back through the centuries to a time before Europeans arrived in search of gold and land.
You can explore the Inca way of life high up in the Andes Mountains, including their study of the stars, their burial rituals, and the intricate rope bridges they wove.
It features 15 easy-to-do projects actively involve the reader in understanding the past - make a reed boat that really floats, eat a delicious Inca bean stew, sculpt a Tiwanaku pottery jaguar, and design a dazzling sun god mask.
It contains fascinating fact boxes that provide extra insights and highlight links with the present.
It is packed with over 340 photographs and illustrations, including historical maps and a pictorial timeline, this is perfect for school or home use by children aged 8 to 12.
Successors to the Chimu gold workers and the Tiwanaku lake people, the Incas ruled the most spectacular empire South America has ever seen.
The so-called Land of the Sun God was bright with treasure houses of precious metals, the most fabulous clothes and huge stone buildings. A variety of step-by-step projects enable you to bring this past age to life - beat on an Inca drum, make a model granary, and recreate a Chimu ceremonial knife.
This is the ideal introduction to South American history, for study, reference and practical learning.
Information
Format: Paperback / softback
Pages: 64 pages, over 340 pictures
Publisher: Anness Publishing
Publication Date: 12/08/2013
ISBN: 9781843227311
Free Home Delivery
on all orders
Pick up orders
from local bookshops