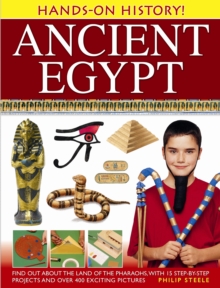 Hands-on History! Ancient Egypt : Find Out About the Land of the Pharaohs, with 15 Step-by-step Projects and Over 400 Exciting Pictures
Hardback
Description
This title helps you find out about the land of the pharaohs, with 15 step-by-step projects and over 400 exciting pictures.
You can step back in time to the world of the ancient Egyptians and uncover the treasures and secrets of this mysterious 3000-year-old civilization.
It includes fact boxes that provide additional information and highlight links with the present.
It is ideal for home or school use and for ages 8 to 12.
It features 15 easy and fun projects that allow you to bring the past to life - make a miniature pyramid, build a model boat suitable for sailing on the Nile, create your own water clock, sculpt a canopic jar, and bake pastries from an age-old Egyptian recipe.
More than 400 photographs and illustrations include specially commissioned cross-section diagrams, historical maps and hieroglyphs.
You can learn what life was like for the people of the Nile Delta.
You can delve into the dark secrets of their funeral rites, mummies and tombs, and the many strange gods they revered.
You can learn about their love of fine art and crafts, and their amazing architectural skills.
A variety of practical projects will help you to experience how ancient Egyptians lived. You can make a crown fit for a pharaoh, build a scale model of an Egyptian house, and play a traditional board game.
This accessible book is ideal for fun and learning, at home or at school.
Information
Format: Hardback
Pages: 64 pages, over 400 pictures
Publisher: Anness Publishing
Publication Date: 30/11/2012
ISBN: 9781843229636