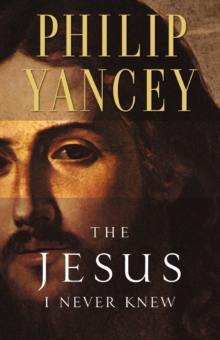 The Jesus I Never Knew
Paperback
Description
"There is no writer in the evangelical world that I admire and appreciate more." Billy Graham Philip Yancey helps reveal what two thousand years of history covered up What happens when a respected Christian journalist decides to put his preconceptions aside and take a long look at the Jesus described in the Gospels?
How does the Jesus of the New Testament compare to the "new, rediscovered" Jesus-or even the Jesus we think we know so well?
Philip Yancey offers a new and different perspective on the life of Christ and his work-his teachings, his miracles, his death and resurrection-and ultimately, who he was and why he came.
From the manger in Bethlehem to the cross in Jerusalem, Yancey presents a complex character who generates questions as well as answers; a disturbing and exhilarating Jesus who wants to radically transform your life and stretch your faith.
The Jesus I Never Knew uncovers a Jesus who is brilliant, creative, challenging, fearless, compassionate, unpredictable, and ultimately satisfying. "No one who meets Jesus ever stays the same," says Yancey. "Jesus has rocked my own preconceptions and has made me ask hard questions about why those of us who bear his name don't do a better job of following him."
Information
Format: Paperback
Pages: 304 pages
Publisher: Zondervan
Publication Date: 23/01/2002
Category: The historical Jesus
ISBN: 9780310219231
Other Formats
Paperback from £5.59
EPUB from £2.99
Free Home Delivery
on all orders
Pick up orders
from local bookshops
Reviews
Showing 1 - 5 of 6 reviews.
Previous | Next
Review by MarieFriesen
16/06/2015
Philip Yancey reveals the real Jesus beyond the stereotypes, revolutionizing the reader's passion for Christ, and offers a new and different perspective on the life of Christ and his work—his teachings, his miracles, his death and resurrection—and ultimately, who he was and why he came. Relating the gospel events to the world we live in today, The Jesus I Never Knew gives a moving and refreshing portrait of the central figure of history. Yancey looks at the radical words of this itinerant Jewish carpenter and asks whether we are taking him seriously enough.
Review by MeditationesMartini
16/06/2015
I honestly wasn't sure what to expect from this book (which now that I think of it is particularly appropriate, Jesus), so naturally it surprised me, but I was surprised again that it impressed me too. Evangelical dude Yancey, you are an imagination blowout! An emotionless cosmic God, becoming human through the Jesus Experiment? A showdown in the desert, Messiah and devil growling each other out? Jesus as either/or? Either God or madman, blessed surcease or demented malevolence? Saviour or monster? This book made me feel good about Christianity, and there wasn't much that could do that at this point in my life.
Review by Donna828
16/06/2015
Yancey, who wrote this book as a journalist and not as a Bible scholar, is not afraid to express his doubts. He writes about a Jesus who is never boring or predictable. I liked the way he approached the question of who Jesus was. His low-key rational appeal is probably more effective to someone new on their spiritual journey than a more "preachy" style. This is not to say that this is a lukewarm portrayal of Jesus. By the end of a book, the reader has a clear idea of Yancey's deep faith in a loving God.
Review by gdill
16/06/2015
This book has helped me gain a better understanding of who Jesus really is void of any preconceived notions. I too have struggled with who exactly Jesus is. Yes, I know He is the Son of God and yes, I know He died on the cross for my sins. But, in His humanity how does He relate to me? Through this book, I have learned that Jesus in many ways is like me in that He was human. He endured much of the pains, the struggles, and the intricacies of being human. Because of this revelation there is no excuse in thinking God doesn't understand me. He does, because He became human... like me.Theologically speaking I was struck by Yancey's descriptive of Jesus' last words on the cross. While He was hanging and slowly dying on the cross, Jesus cried out not to Abba, not to Father, but to God. He uses the name of God for the first time in His earthly life. This is when Jesus says, "My God, My God, why hast Thou forsaken Me?" This is indicative of a feeling of abandonment, distance, and loneliness. For a brief moment on the cross, Jesus was left alone. Why? God turned His back upon Jesus. God cannot look upon sin and Jesus had become fully sin. He himself did not sin, but He bore the burden of the sins of the world upon Him. He was forsaken, and Jesus in His humanity did not understand why. Was this a result of all the sin that was heaped upon Him while on the cross? Probably.Understanding Jesus in the way that I have come to understand Him through this book will help me better teach others about Christ. As a missionary to Albania, people who have been oppressed under Communism for many years will relate to the way Jesus lived under oppression. They will also relate to the way that Jesus taught true liberation, a spiritual freedom found only in Jesus Christ.
Review by AngeloMarcos
27/08/2015

I thought this was a very intelligent, perceptive account of the life of Jesus.

Since childhood - in the West anyway - we've all got used to the story of Jesus, and so to see the Virgin Birth, the Crucifixion, the Resurrection, and all of the other aspects of Jesus' life in their historical, political and social context is fascinating.

Phillip Yancey is an incredible writer and, as he states himself, his background is not theology but journalism. This means he approaches subjects from a very analytical perspective, and is often brave enough to say that at certain times in Jesus' life, he wouldn't quite know how to act as a bystander.

This is definitely a highly recommended book, and not just for Christians, but for anybody who wants to understand more about the life of Jesus.