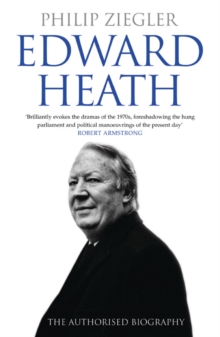 Edward Heath : The Authorised Biography
Paperback
Description
The magisterial official life of Britain's complex and misunderstood former prime minister, which offers a fundamental reassessment of his reputation.Edward Heath arguably changed the lives of the British people more than any prime minister since Winston Churchill.
By securing Britain's entry into Europe he reversed almost a thousand years of history and embarked on a course that would lead to the legal, political, economic and social transformation of this country.
By abolishing the Resale Price Maintenance he cleared the way for the all-conquering march of the supermarket and revolutionised every high street in the country.
He forced through both reforms by a combination of determination, patience and persuasive powers, against the inertia or active hostility of a large part of the British population, including many in his own party.Yet Heath today is a largely forgotten figure, completely eclipsed by his more famous successor.
His working class origins and suspect accent made him an unlikely Tory leader.
But he was a trail-blazer, and without him it is unlikely that Mrs Thatcher would ever have risen to prominence.With exclusive access to the huge collection of Heath's personal papers, distinguished biographer Philip Ziegler reassesses the contribution of one of the most resolute and forceful politicians in recent British history.
Information
Format: Paperback
Pages: 576 pages
Publisher: HarperCollins Publishers
Publication Date: 15/09/2011
ISBN: 9780007247417
Free Home Delivery
on all orders
Pick up orders
from local bookshops
Reviews
Showing 1 - 1 of 1 reviews.
Review by BrianHostad
16/06/2015
Readable book which takes Heath life on order, each chapter a progression from the other. However, each chapter deals with themes and issues from that part of his life and often moves around. For some parts of his life, e.g. the early and later parts this is fine. However, during his premiership I was hoping for something with a more chronological narrative so I could really understand how his tenure evolved. This would also have helped understand the tension and problems he faced as he went through.Overall, I feel I know Heath a lot better now and Zeigler is pretty open about how difficult and unlikeable person Heath could be, I thought I was a grumpy unsocial so and so at times, but that's as nothing compared to Heath.