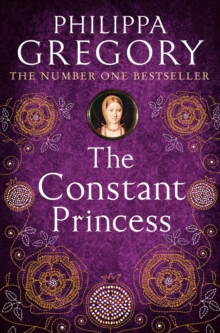 The Constant Princess
Paperback
Description
A splendid and sumptuous historical novel from the internationally bestselling author, Philippa Gregory, telling of the early life of Katherine of Aragon.I was born a princess, destined to be queen, and I know my duty.1491.
Henry VII's eldest son Arthur Tudor, Prince of Wales, has been betrothed since childhood to the Spanish princess Katherine of Aragon.
Their marriage will cement the alliance Henry Tudor craves to secure his country.But when Arthur's sudden death leaves an 11-year-old boy heir to the kingdom, Henry Tudor must choose whether to send Katherine back to Spain, or to marry her himself.
Katherine has no son from her brief marriage to secure her future; her substantial dowry and his powerful contract are at stake.Henry has reckoned without the determination of a young woman set on fulfilling her own destiny to be a queen - and the ambition of Prince Harry, the future Henry VIII.
Information
Format: Paperback
Pages: 528 pages
Publisher: HarperCollins Publishers
Publication Date: 02/05/2006
Category: Historical fiction
ISBN: 9780007190317
Other Formats
EPUB from £3.99
Hardback from £15.75
eAudiobook MP3 from £13.40
Free Home Delivery
on all orders
Pick up orders
from local bookshops
Reviews
Showing 1 - 5 of 7 reviews.
Previous | Next
Review by Daisydaisydaisy
16/06/2015
A fun and interesting read. It follows the life of Katherine of Aragon, the first wife of Henry VIII, and looks at her earlier marriage to his older brother Arthur, and her subsequent marriage to him. The powerlessness of Tudor women really came across, she was just a pawn between her parents in Spain and the Tudor throne in England. Plus the lack of medical knowledge I found amazing, especially when it was compared to the vast knowledge from the East in the Muslim world. I suppose it was often the small details that made me really enjoy the book, as well as Katherine's efforts to get what she had felt she'd been born for - to be Queen of England.
Review by aapjebaapje
16/06/2015
The Constant Princess is sooooo constant. I haven't read such a repetitive book for as long as I can remember. I know the book has to reflect the title but with such an interesting subject the book could have been called something else and then the style could have been less droning. Katharine of Aragon is a subject little written about so perhaps Ms Gregory could have another bite of the cherry with a novel about Mary, her daughter. But let's hope that this book is of the same ilk as her series about the Tradescants.
Review by littlebookworm
16/06/2015
To start, I think the author could not decide whether she wanted to write a present-tense, first-person diary-like account of Katherine's life, or a third-person past-tense impartial one. She switches between the two so often as to make it distracting. Further, the book is, as mentioned, extremely repetitive, with a dull, uninteresting, loose plot. Gregory does not keep Katherine true to her time period, as her ideas are freely drawn from modern women and from Elizabeth I, as far as I could tell. Moreover, Gregory has Katherine spouting ideas about law that were actually Richard III's in origin. She also discovers a tolerance for Moors that is well beyond what such a Catholic woman would have found possible at the time. I found these inaccuracies distracting, and would have preferred a Katherine more in line with her time period and her faith. Also, as someone said below - Henry VII in love with Katherine? I could not take that seriously.Personally, I wonder why Ms. Gregory chose to turn this queen into a heroine. She may well have been one, we don't know. But what I find so perplexing is that she strayed from this interpretation on Elizabeth I and Anne Boleyn. She turns the first into a weak wanton and the second into a scheming, incestuous witch. Why not glorify the queens who probably deserve it most along with this one? That is my qualm with Gregory, however, and not this novel. I can say that this novel is assuredly nothing special, neither in storyline or writing, and that I am now certain to stay away from Gregory's works. Even the romance between Katherine and Arthur was too repetitive to be heartwarming or believable. This book stretched my credulity too far, in essence, and did not provide a good story to make up for it.
Review by eesti23
16/06/2015
The Constant Princess tells the story of Catalina, Infanta of Spain and Princess of Wales. Betrothed at the age of 3 to Prince Arthur she finds England a surprise in relation to its customs, beliefs and behaviours. After a troublesome start the pair eventually settle into a romantic relationship, enjoying their time together planning how they will rule England when they become King and Queen. However that future is not to happen as Arthur dies suddenly in the early months of their marriage. Making a deathbed promise to Arthur, Catalina does everything in her power to secure her position as Katherine of Aragon, Queen of England even if it means marrying the foolish and immature second son Henry VIII. This story is wonderfully told, with such detail that you feel a part of the Court. I cried at the death of Arthur and went through a whole range of emotions with the development of Catalina. However, I was most disappointed by the last few chapters of this book. Having gone from such a detailed manner of storytelling to the sudden 'simple' ending did not seem in keeping with the book. A little more detail from the defeat of the Scots to Katherine's trial would have made the ending more in keeping with the style and more enjoyable, in my opinion. Although it was still an excellent read.
Review by Elphaba71
16/06/2015
Another Great read from Philippa Gregory. The novel details Katherine of Aragons early life & her rise from Catalina, Infanta of Spain to Katherine, Queen of England. I love the Tudor period, & found this novel a great insight into a colourful time in our history, made all the richer with Philippa Gregory's detailed reseach.