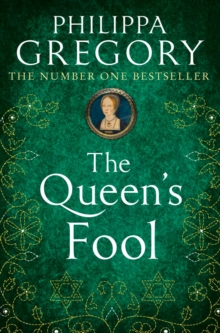 The Queen's Fool
Paperback
Description
A stunning novel set in the Tudor court, from the Sunday Times No.1 bestseller Philippa Gregory.I would have been a fool indeed to tell the truth in this court of liars...1553.
King Edward is on his deathbed, and the future of the Tudor dynasty swings perilously.Forced out of Spain by the Inquisition, Hannah Green arrives in a volatile kingdom.
She is identified as a seer and sworn into the service of Robert Dudley, the son of King Edward's protector and a key player at court.
Her task: to keep watch on Princess Mary, the forgotten heir.Mary's grip on the Crown is fragile.
Elizabeth, Mary's half-sister, is ready to take England's throne.
Caught in the rivalry between the daughters of Henry VIII, Hannah must navigate her way through a treacherous court if she is to survive.
Information
Format: Paperback
Pages: 496 pages
Publisher: HarperCollins Publishers
Publication Date: 01/04/2004
Category: Historical fiction
ISBN: 9780007147298
Free Home Delivery
on all orders
Pick up orders
from local bookshops
Reviews
Showing 1 - 5 of 8 reviews.
Previous | Next
Review by francescadefreitas
16/06/2015
Like 'The Other Boleyn Girl', this keep me reading past my bedtime. I found some of Hannah's attitudes anachronistically modern, but I cared about her, and was interested in what happened to her. I enjoyed the storytelling.However, I found Elizabeth to be almost indistinguishable from Anne Boleyn - both mother and daughter were, er, one trick ponies. Neither Mary nor Elizabeth gained my sympathy, even with the troubles they both experienced.
Review by emmakendon
16/06/2015
Much about this book was irritating, which was a shame after The Other Boleyn Girl, because the character Hannah was taken into so many people's confidence so unconvincingly and because her visions were such a central part of the book. However, having got used to that slightly saccharine taste, I can get wrapped up in Gregory's storytelling and detail. The nausea and paranoia I felt in the thick of the burnings and torture was palpable and I was aching for the book to end and Elizabeth to succeed to the throne. I suspect of the three books she has written around this period, this one is probably the weakest, and when I'm ready for another burst of sugar, I'll get hold of and read The Queen's Lover (I think it's called - anyway the one about Elizabeth and Dudley).
Review by poppi
16/06/2015
The strength of the book is the sympathetic portrayal of Bloody Mary. It does what historical fiction is best at, showing a particular period in the rich textures of history and social life. That sense of 'being there' is just not achieved by straight historical accounts. Gregory is superb with characterisation, sense of place and the deft integration of period detail. Unfortunately the plot and its contrivances stretched credibility, but what really annoyed me was the punctuation! Gregory simply does not know what the semi-colon is for and when to use it, or not. Do Harper Collins not employ editors?
Review by ponsonby
16/06/2015
This is an interesting book, using the character of a teenaged Jewish girl to show the story of life for 'Bloody Mary' and Princess Elizabeth in the tumultuous 1550s. Some of it is slightly improbable but overall it is worth reading. Less intensely involving than 'The Other Boleyn Girl' although since it almost entirely based on fictional events, it doesn't starin cedulity so much
Review by lecari
16/06/2015
This is the second book in Philippa Gregory's Tudor series; this time, the story is seen through the eyes of Hannah Green, the Queen's Fool, who is Jewish and has the gift of Sight, and her time at the Tudor court from the death of Edward to the death of Mary.This book really made me feel for Mary. Everyone knows her as 'Bloody Mary,' a murderer, but Philippa's portrayal of her is a woman who just wants to help her country regain the true faith and save their souls from sin, no matter what it takes. Mary is left to die, heartbroken, having seen her marriage fail, her husband stolen from her by her own sister, been taunted for her two still-born (possibly false) pregnancies, and her country prefer Elizabeth to her. Her nightmare has come true, as she sees the man she loves stolen by a younger woman, just as Henry was stolen from Mary's mother Catherine by Elizabeth's mother Anne many years before. You really do feel for her, and it makes her much more human.As the story is told through Hannah's eyes, obviously it focuses on the plight of her life, and her thoughts on being a woman and wanting to be independent, rather than marrying her betrothed and being a good Jewish wife. I personally disliked the sillyness between her and her husband, as it went from subplot to main plot as they flee to Calais. Although I liked her as a character, I just wasn't interested, I picked up the book to read about the Queen and the Princess, and just wished the main story would start up again. This is why, unfortunately, I can't give it full marks like The Other Boleyn Girl - the parts with Mary and Elizabeth are enchanting, and I was completely sucked into their world.However, this one can't have turned me off the series too much, as I've bought the next in the series, The Virgin's Lover, which I'm really looking forward to reading.