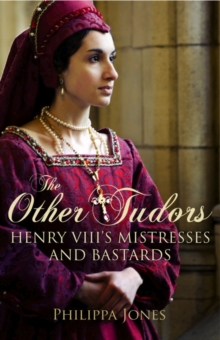 The Other Tudors : Henry VIII's Mistresses and Bastards
Paperback
Description
Everybody thinks they know the tale of King Henry VIII's wives: divorced, beheaded died; divorced, beheaded, survived.
But behind this familiar story, lies a far more complex truth.
This book brings together for the first time the 'other women' of King Henry VIII.
When he first came to the throne, Henry VIII's mistresses were dalliances, the playthings of a powerful and handsome man.
However, when Anne Boleyn disrupted that pattern, ousting Katherine of Aragon to become Henry's wife, a new status quo was established.
Suddenly noble families fought to entangle the king with their sisters and daughters; if wives were to be beheaded or divorced so easily, the mistress of the king was in an enviable position.
While Henry VIII has frequently been portrayed as a womanizer, author Philippa Jones reveals a new side to his character.
Although he was never faithful, Jones sees him as a serial monogamist: he spent his life in search of a perfect woman, a search that continued even as he lay dying when he was considering divorcing Catherine Parr thus leaving him free to marry Katherine d'Eresby. Yet he loved each of his wives and mistresses, he was a romantic who loved being in love, but none of these loves ever fully satisfied him; all were ultimately replaced. "The Other Tudors" examines the extraordinary untold tales of the women who Henry loved but never married, the mistresses who became queens and of his many children, both acknowledged and unacknowledged.
Philippa Jones takes us deep into the web of secrets and deception at the Tudor Court and explores another, often unmentioned, side to the King's character.
Information
Format: Paperback
Pages: 336 pages, 8pp b&w plate section
Publisher: IMM Lifestyle Books
Publication Date: 26/06/2009
Category: British & Irish history
ISBN: 9781847734297
Free Home Delivery
on all orders
Pick up orders
from local bookshops
Reviews
Showing 1 - 2 of 2 reviews.
Review by meggyweg
16/06/2015
Gah. I hated this book. I had problems with virtually every aspect of it. The author makes grand sweeping conclusions that fly in the face of other historians' theories. Which is fine...if you have the evidence to back it up. In this case, Philippa Jones argued that Henry VIII had a lot more mistresses and bastard children than everyone thinks he did. The generally accepted total of bastards is definitely one, perhaps two, no more. Jones presents a total of FIVE people she names as his children.And as to evidence... nothing but a mishmash of assumptions and speculations, with liberal use of terms like "maybe" and "probably" and "perhaps" and "should have" and so on. I looked at her endnotes and see mostly secondary sources, and she even cites Wikipedia. And the writing isn't very good and the chronology skips back and forth so much it's very confusing. For instance, Jones attempts to cover the rise and fall of Anne Boleyn in a mere 21 pages and WITHOUT mentioning the birth of her daughter Elizabeth. (She talks about Elizabeth's birth in another chapter, but still.)I most sincerely do NOT recommend this book.
Review by bridgetmarkwood
16/06/2015
Not bad. Some parts were great. Others... dragged a little. Will be good to have as a reference though. Nicely (even a little overly) researched on a few of the kids.