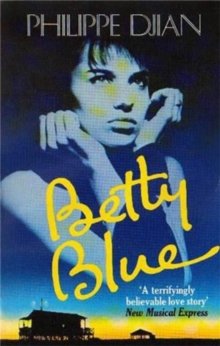 Description
They were predicting storms for the end of the day but the sky stayed blue and the wind died down.
I went to take a look in the kitchen - make sure things weren't getting clogged up in the bottom of the pot.
Everything was just fine. I went out onto the porch armed with a cold beer and stayed there for a while, my face in the sun.
It felt good. It had been a week now that I'd been spending my mornings in the sun, squinting like some happy idiot - a week now since I'd met Betty.'BETTY BLUE remains a cult book and film nearly twenty years since its first outing.
The extraordinary story of an erotic, doomed love affair has transfixed hundreds of thousands of readers around the world.
Information
Format: Paperback
Pages: 352 pages
Publisher: Little, Brown Book Group
Publication Date: 07/12/1989
ISBN: 9780349101101
Free Home Delivery
on all orders
Pick up orders
from local bookshops
Reviews
Showing 1 - 1 of 1 reviews.
Review by bluepigeon
16/06/2015
Despite the melancholy and many tints of "blue" in this novel, I could not help but see it as a fairytale. What a carefree life! What bohemian ease! How the main character can easily overcome money problems, escape criminal charges, cruise along life like nothing serious ever happened... It is a fantasy, so in the end, I wanted to have a friend who would let me stay in his house in a small town close to the beach for free, sell his pianos and pocket the money. Why don't I have such friends? Why isn't life this easy?<br/><br/>I suppose the point is, life is never easy. I'd love to have Betty's carefree life, with a partner who is crazy about her, but clearly Betty has other problems.<br/><br/>I saw the film first, and I could not get the narrator's voice out of my head while I read the book. So the translation and language seemed apt to me. I do see that for some, the writing style will seem a bit choppy and maybe immature.<br/><br/>Recommended for those who, in their 30s, can remember the good old days of sitting in the sun with a bottle of cold beer with a melancholic smile, and feel still young, yet wiser.