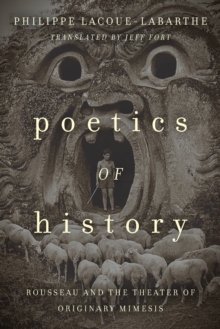 Poetics of History : Rousseau and the Theater of Originary Mimesis
Paperback / softback
Description
Rousseau's opposition to the theater is well known: Far from purging the passions, it serves only to exacerbate them, and to render them hypocritical.
But is it possible that Rousseau's texts reveal a different conception of theatrical imitation, a more originary form of mimesis?
Over and against Heidegger's dismissal of Rousseau in the 1930s, and in the wake of classic readings by Jacques Derrida and Jean Starobinski, Lacoue-Labarthe asserts the deeply philosophical importance of Rousseau as a thinker who, without formalizing it as such, established a dialectical logic that would determine the future of philosophy: an originary theatricality arising from a dialectic between "nature" and its supplements. Beginning with a reading of Rousseau's Discourse on Inequality, Lacoue-Labarthe brings out this dialectic in properly philosophical terms, revealing nothing less than a transcendental thinking of origins.
For Rousseau, the origin has the form of a "scene"-that is, of theater.
On this basis, Rousseau's texts on the theater, especially the Letter to d'Alembert, emerge as an incisive interrogation of Aristotle's Poetics.
This can be read not in the false and conventional interpretation of this text that Rousseau had inherited, but rather in relation to its fundamental concepts, mimesis and katharsis, and in Rousseau's interpretation of Greek theater itself.
If for Rousseau mimesis is originary, a transcendental structure, katharsis is in turn the basis of a dialectical movement, an Aufhebung that will translate the word itself (for, as Lacoue-Labarthe reminds us, Aufheben translates katharein).
By reversing the facilities of the Platonic critique, Rousseau inaugurates what we could call the philosophical theater of the future.
Information
Format: Paperback / softback
Pages: 176 pages
Publisher: Fordham University Press
Publication Date: 05/02/2019
Category: Theatre studies
ISBN: 9780823282333
Free Home Delivery
on all orders
Pick up orders
from local bookshops
Also by Philippe Lacoue-Labarthe | View all