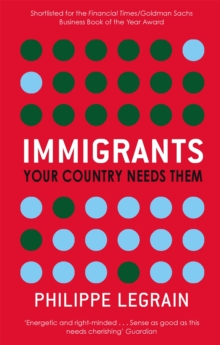 Immigrants : Your Country Needs Them
Paperback
Description
Immigration divides our globalising world like no other issue.
We are swamped by bogus asylum-seekers and infiltrated by terrorists, our jobs stolen, our benefit system abused, our way of life destroyed - or so we are told.
Philippe Legrain, author of the critically acclaimed OPEN WORLD, has written the first book that looks beyond the headlines.
Why are ever-rising numbers of people from poor countries arriving in Europe, North America and Australasia?
Can we keep them out? Should we even be trying? Combining compelling first-hand reporting from around the world, incisive socio-economic analysis and a broad understanding of what is at stake politically and culturally, IMMIGRANTS is a passionate, but lucid book.
In our open world, more people will inevitably move across borders, Legrain says - and we should generally welcome them.
They do the jobs we can't or won't do - and their diversity enriches us all.
Left and right; free-marketeers and campaigners for global justice; enlightened patriots - all should rally behind the cause of freer migration, because They need Us and We need Them.
Free Home Delivery
on all orders
Pick up orders
from local bookshops
Reviews
Showing 1 - 1 of 1 reviews.
Review by annafdd
16/06/2015
This is the kind of book that you read nodding vigorously and from which you want to read bits aloud. The sad truth is that probably only people who agree with it will read it, or be receptive to its arguments. This books makes the case for immigration, for tearing down the barriers to the free movement of people, on several levels. It not only describes the human toll, in fatalities, exploitation, and just plain suffering, of the people who fight the battle to emigrate; but explores how emigration makes economic sense for both the receiving and sending countries, and tears down the myths and untruths about how Those People Want to Rape Our Wommin and Steal Our Jobs.