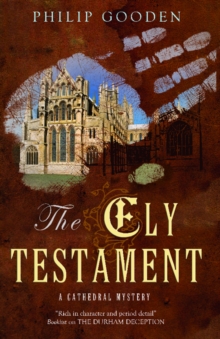 The Ely Testament
Hardback
Description
"Third in the highly-acclaimed nineteenth-century Cathedral mystery series "When Mr Lye, an elderly partner at Tom Ansell s law firm, drops dead at his desk, Tom is dispatched to Ely to search for Mr Lye s will at Phoenix House, the home of his brother, Ernest.
At the same time, Tom s wife Helen has been commissioned by "New Moon "magazine to write a piece on a town with inner beauty and what better place than Ely?
But shortly after they arrive at Phoenix House, their host is arrested for murder and Tom and Helen find themselves at the centre of an ever-deepening mystery."
Information
Format: Hardback
Pages: 240 pages
Publisher: Severn House Publishers Ltd
Publication Date: 11/10/2011
Category: Historical mysteries
ISBN: 9780727881038
Free Home Delivery
on all orders
Pick up orders
from local bookshops
Reviews
Showing 1 - 1 of 1 reviews.
Review by elastic.ella
16/06/2015
A murder mystery set in the nineteen hundreds with a side story set in the seventeen hundreds. The main story focuses on a Mr. Lye, a partner in a law firm, who may have died without writing a will. Tom goes off to investigate, and his host, Mr. Lye's brother, is arrested for murder and the mystery begins.There was some lovely imagery, especially in describing architecture. There were many characters in this mystery that opened up many possibilities for what may have happened. Unfortunately the author tended to close doors off rather quickly, instead of allowing the reader to build up any pet theories. The side story keeps up suspense while the main develops slowly, and one gets to imagine possible connections between the two.I prefer my mysteries to have a rather intelligent protagonist, so that one must actively think to figure out the mystery. I found many connections stated bluntly, that I would have liked to establish and mull over. I didn't find the characters that likable, and the only likable one, Helen, was flawless and had every male chasing after her. Though there is a melodramatic twist at the end, the killer's identity could be figured out via process of elimination. All in all the book was written well, but not my cup of tea.Nibble: "Mute was a first-rate pseudonym for a contributor to the magazine since it not only described a paid mourner at a funeral but also had a tinge of mystery to it."I would recommend this to someone who wants a lazy Sunday mystery.I received a free electronic copy of this book from Severn House.