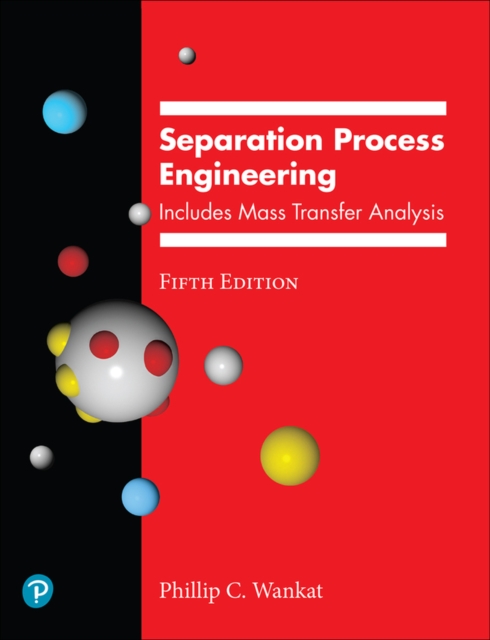 Separation Process Engineering : Includes Mass Transfer Analysis
Paperback / softback
Description
The Definitive, Learner-Friendly Guide to Chemical Engineering Separations--Extensively Updated, Including a New Chapter on Melt Crystallization Efficient separation processes are crucial to addressing many societal problems, from developing new medicines to improving energy efficiency and reducing emissions.
Separation Process Engineering, Fifth Edition, is the most comprehensive, accessible guide to modern separation processes and the fundamentals of mass transfer.
In this completely updated edition, Phillip C. Wankat teaches each key concept through detailed, realistic examples using actual data--with up-to-date simulation practice, spreadsheet-based exercises, and references. Wankat thoroughly covers each separation process, including flash, column, and batch distillation; exact calculations and shortcut methods for multicomponent distillation; staged and packed column design; absorption; stripping; and more.
His extensive discussions of mass transfer and diffusion enable faculty to teach separations and mass transfer in a single course. And detailed material on liquid-liquid extraction, adsorption, chromatography, and ion exchange prepares students for advanced work. New and updated content includes melt crystallization, steam distillation, residue curve analysis, batch washing, the Shanks system for percolation leaching, eutectic systems, forward osmosis, microfiltration, and hybrid separations.
A full chapter discusses economics and energy conservation, including updated equipment costs.
Over 300 new and updated homework problems are presented, all extensively tested in undergraduate courses at Purdue University.
New chapter on melt crystallization: solid-liquid phase equilibrium, suspension, static and falling film layer approaches, and 34 questions and problemsNew binary VLE equations and updated content on simultaneous solutionsNew coverage of safety and fire hazardsNew material on steam distillation, simple multi-component batch distillation, and residue curve analysisExpanded discussion of tray efficiencies, packed column design, and energy reduction in distillationNew coverage of two hybrid extraction with distillation, and the Kremser equation in fractional extractionAdded sections on deicing with eutectic systems, eutectic freeze concentration, and scale-upNew sections on forward osmosis and microfiltrationExpanded advanced content on adsorption and ion exchange including updated instructions for eight detailed Aspen Chromatography labsDiscussion of membrane separations, including gas permeation, reverse osmosis, ultrafiltration, pervaporation, and applicationsThirteen up-to-date Aspen Plus process simulation labs, adaptable to any simulatorThis guide reflects an up-to-date understanding of how modern students learn: designed, organized, and written to be exceptionally clear and easy to use.
It presents detailed examples in a clear, standard format, using real data to solve actual engineering problems, preparing students for their future careers.
Information
Format:Paperback / softback
Pages:1168 pages
Publisher:Pearson Education (US)
Publication Date:25/11/2022
Category:
ISBN:9780137468041
Information
Format:Paperback / softback
Pages:1168 pages
Publisher:Pearson Education (US)
Publication Date:25/11/2022
Category:
ISBN:9780137468041