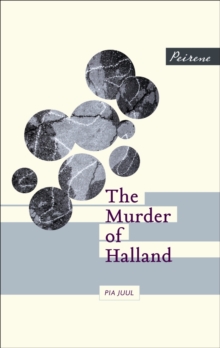 The Murder of Halland
Paperback
Description
Bess and Halland live in a small town, where everyone knows everyone else.
When Halland is found murdered in the main square the police encounter only riddles.
For Bess bereavement marks the start of a journey that leads her to a reassessment of first friends, then family. ------- Why Peirene chose to publish this book: 'If you like crime you won't be disappointed.
The book has all the right ingredients. A murder, a gun, an inspector, suspense. But the story strays far beyond the whodunit norm. In beautifully stark language Pia Juul manages to chart the phases of bereavement.
PS Don't skip the quotes.' Meike Ziervogel, Publisher
Information
Format: Paperback
Pages: 189 pages
Publisher: Peirene Press Ltd
Publication Date: 01/06/2012
ISBN: 9780956284075
Free Home Delivery
on all orders
Pick up orders
from local bookshops
Reviews
Showing 1 - 5 of 5 reviews.
Review by writestuff
16/06/2015
Many years after Bess has left her husband and young daughter, Abby, to move in with Halland the two lovers are living in a small town in Denmark. One morning, Bess is woken by a sound and discovers Halland has been murdered – shot – in the village square. Who has killed Halland? Thus begins the very literary, mind-bending novella by Pia Juul.Juul is somewhat of a cultural phenomenon in her native country of Denmark, but she is new to a U.S. audience through this adept translation published through Peirene Press. The Murder of Halland appears, at first, to be a whodunnit. But Juul turns the genre of crime fiction on its head by taking us on a journey through loss instead.Bess is a writer, an intellectual, who mourns her shattered relationship with her daughter and has a strained, if not disconnected, relationship with both her mother and grandfather. When Halland dies, she seems to go off the deep end – stealing money, drinking excessively, flirting with her neighbor, rekindling a sexual relationship with her ex-husband, and abandoning her work. Tantalizing clues emerge about Halland – a secret room, shuffling of financial accounts and a pregnant niece who apparently was getting all of Halland's mail forwarded to her. None of it makes sense to Bess or to the reader. As Bess moves through her life now absent of Halland, she begins to re-examine her past and contemplate her future.Juul's writing is surreal at times. There are seemingly unconnected events which never get fully explained, such as the disappearance of a neighbor. Juul painstakingly develops the character of Bess while keeping the reader guessing about the real motivations of the secondary characters. It becomes clear, eventually, that Bess is an unreliable narrator who may be hiding her own secrets.The Murder of Halland packs a lot of punch in a short number of pages. It is a sometimes bizarre, always twisting journey down a path of grief and dark secrets. The ending startled me and was somewhat baffling. Indeed, I paged back to the beginning and began to read again wondering if I had missed an important clue earlier in the story.This is not a traditional piece of crime fiction. It is a sharply observed, intellectually stimulating piece of literary fiction. Readers who enjoy translated works which challenge established genres will find this little gem worth the read.Recommended.
Review by AndrewBlackman
16/06/2015
The book begins with a murder. Soon detectives are on the scene, and the victim's life is being unravelled piece by piece, revealing a double life and several people with possible motives.But this is not your average detective novel. For one thing, The Murder of Halland is narrated in the first person by Halland's widow, Bess. This makes a difference, because what we see is a very skewed view of the investigation. She discovers some things about Halland, like an apartment in Copenhagen he'd been renting, and a niece who's pregnant with a child she suspects may be his. She withholds this, and other things, from the police, and is quite detached from the investigation in general. So we don't get the usual examination of suspects and accumulation of evidence. We don't get much of the police procedure at all, and we don't get much sense of progress.There's a dreaminess to the narrative throughout. Bess is asleep when her husband is murdered and never seems to fully wake up. The first time a policeman arrives, he seems like a character from a dream, someone she's seen before, parking his car opposite the house. He arrives, breathless, and shouting that he's arresting her "in the name of the law", before disappearing, never to be seen again. When the real police come later, they know nothing about him. The brief episode is slightly surreal and absurd.Bess also doesn't behave as a widow is supposed to behave. She worries about the fact that people don't see her crying, and indeed some other characters comment that she doesn't seem to be grieving properly. She goes out to a dance and gets drunk on aquavit. She kisses her neighbour on the lips. She examines the history of her relationship with her dead husband in a detached way, completely free of sentimentality. She throws Halland's niece out of the house for grieving more than she is, and then fantasises about her being hit by a car.The plot also frustrates the normal conventions, which are actually described within the book, as Bess sits down to make herself happy by watching a detective series:"First a murder, nothing too bestial. Then a police inspector. Insights into his or her personal problems, perhaps. Details about the victim. Puzzles and anomalies. Lines of investigation. Clues. Detours. Breakthrough. Case solved. Nothing like real life."She tries to make a list of the facts and lines of inquiry in her own husband's case, but it means nothing to her, and she replaces it with a list beginning "Laundry. Groceries. Dry cleaning."This is a book in which the puzzles are not solved, the anomalies are not explained, and the lines of investigation are not pursued (at least within what we see from Bess's viewpoint). There's no breakthrough, and the ending is ambiguous, with the police selecting one probable suspect but the last few lines suggesting another possibility altogether.Nobody behaves quite how you'd expect: the estranged daughter is surprisingly conciliatory, while the bitter ex-husband wants to sleep with her. The neighbour doesn't react with surprise at being kissed, or really react in any way at all. The more hostile Bess is towards Halland's niece, the more friendly she is in return. It's all weird, and yet it all rings true, because in real life people are weird and they do behave in unexpected ways.Which brings me back to what makes this book "literary". Bess does not behave in ways that are looked at approvingly. She doesn't do the things that grieving widows are supposed to do. Similarly, the other characters defy convention. They behave in ways that surprise us, challenging our expectations rather than reinforcing them.The effect on the plot is to make it unsatisfying by normal standards. There's no rising tension, no breakthrough, no neat resolution. Strands appear to be going somewhere, and then break off. The neighbour is abducted, but then turns up again. Bess finds that Halland transferred a huge amount of money to her account shortly before his death, but this is never explained. The daughter turns up after years of separation, but there's no big confrontation or reconciliation, and then she goes away again. Everything seems like an anticlimax.And yet, it works. I think it works because it feels true. I'm reminded of something E.M. Forster wrote in Aspects of the Novel, about the tussle between character and plot – does the author want to give a satisfying plot and corral the characters into doing what he/she wants, or be true to who the characters really are and what they would really do, which may be less satisfying plot-wise? In genre fiction I think the plot often wins out, but in literary fiction it's about character.In The Murder of Halland, it's definitely about character, and the result is something odd, sometimes frustrating, but ultimately successful.
Review by teresa1953
16/06/2015
It is a seemingly ordinary evening when we meet Bess and Halland Roe. After watching a crime drama on the televison, Halland announces an early start the next morning and retires to bed. Bess, a writer, decides to catch up on some work in the study and eventually collapses on the sofa so as not to wake her husband. A single loud noise awakens her which she assumes is Halland leaving the house. Then comes the loud, urgent knocking on the front door.Halland has been fatally wounded by a single gun shot in the market square. Unbelievably, the police officer at the door is arresting Bess for his murder, as the last words Halland spoke appear to have been "my wife has shot me." Of course we know she hasn't, has she?. All she wants right now is too see her daughter Abby, but she hasn't seen her for over ten years after an acrimonious divorce from Abby's father. Neither does she speak to her own mother, so who can Bess turn to for help?So unwinds a wonderfully written novella, complex and intriguing, which is not just a darn good crime story, but a portrait of bereavement, feuding families and the wafer thin relationship between a mothers and daughters. There is also a fascinating insight in to small town life and the petty goings on between close neighbours. Oh and Halland has been leading a double life....all the red herrings line up one by one and the reader is unable to tell if Bess is implicit in some way or whether it was a careless accident. Written by Denmark's leading literary author Pia Juul and impeccably translated in to English by Martin Aitken, this is another successful publication by the classy Peirene. It is not what you would call a usual crime novel. It is quirky and a joy to read. It takes pride of place on my bookshelf among all of Peirene's other publications to date. Great stuff.
Review by JosephCamilleri
16/06/2015
At one point in the book, the narrator Bess criticizes TV murder mysteries - with their neat solutions and tidy plots, they do not reflect real life. Presumably, Bess would give her creator 5 stars as this is a crime novel(la) which raises more questions than it gets to answer. Juul is primarily interested in showing us the impact of Halland's death on the people around him, particularly Bess (his wife/partner - she's not even sure how she should describe herself). The underlying theme is that the greatest mysteries are not the trivial matters such as "who killed whom", but rather the secrets which we tend to keep from our loved ones.Told with a wry humour which works surprising well in (Martin Aitken's) translation, and punctuated with various literary quotes which provide an oblique counterpoint to the plot, this is a novel which, at its end, will leave you unsure whether to applaud it or throw the book against the wall (though this wasn't much of an option in my case since I was reading it on my tablet...)
Review by proustitute
16/06/2015
Actually, there's a great deal I haven't mentioned. How could I possibly include everything? Nonetheless, there is something I haven't mentioned which I must have left out on purpose. That's the difference. Or perhaps there isn't any difference. Perhaps I leave out the things I'm not aware of leaving out on purpose.
What a clever, enigmatic, and downright brilliant book. With deceptive simplicity, Juul turns the murder mystery genre on its head—and then some. Her prose is very lucid, often with staccato rhythms that reminded me often of another Scandinavian author: the great Tove Jansson. Like Jansson, Juul is a brilliant wordsmith, fashioning
texture
more so than narrative or flow.
Although
The Murder of Halland
begins with a murder—and a rather Kafkaesque scene of public proclamation of guilt thrown on to the narrator, his common-law wife, Bess—those who read this novel to find out the whos, the whats, the wheres, the whys, and the hows will be gravely disappointed. (I hesitate to even add this title to my crime/mystery shelf here.) Instead, as I said above, Juul allows the initial murder to be the impetus for what flows forth, privileging texture over anything else.
Complete with a cast of bizarre characters, and with a humor so typically Scandinavian in its dark, sardonic way, this novel slowly builds to a consideration of how well we know others ("I knew everything about Halland. He was the love of my life. Did I hate him?"), and also how well we can know ourselves in a world that makes no sense whatsoever. An example of the strange juxtapositions that take place here that make this such a phenomenal work due to how it bends across genres so seamlessly: Bess picks up a notebook to write the usual whodunit suspect list, with motives and clues pointing to them. Immediately, however, she turns the page over and begins to write a to-do list so as not to forget to go grocery shopping or to clean her house. Juul is able to place similar types of discordant juxtapositions in both stream-of-consciousness as well as more dialogic passages, so the mood—which is hard to pinpoint or signify, existing both at the level of pathos and humor, grief and giddiness—stays wonderfully fluid throughout.
Epigraphs begin each chapter and indicate both Juul's authorial debt as well as her thematic similarity to figures as wide ranging as Christa Wolf, Robert Walser, Raymond Chandler, Agatha Christie, Anne Carson, and Eugène Ionesco. At the same time, though, her prose is so cinematic in its registers that one can't help but think of the surreal work of directors like David Lynch, where the uncanny side of everyday life is brought to the forefront and dreams and reality are indeterminable from one another. (Although I personally think the cinematic register in
The Murder of Halland
owes more to feminist surreal filmmakers like Lucrecia Martel whose work also came to mind while I was reading Juul's novel.)
A remarkable and wholly original work: here's to assembling a team of talented translators eager to begin translating more of Juul's work into English soon so that we can enjoy the insights and the bewildering logic upholding the world as she presents it to us—and as it quite often is in reality as well.