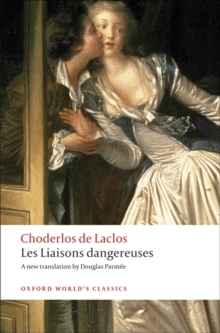 Les Liaisons dangereuses
Paperback
Description
The complex moral ambiguities of seduction and revenge make Les Liaisons dangereuses (1782) one of the most scandalous and controversial novels in European literature.
The subject of major film and stage adaptations, the novel's prime movers, the Vicomte de Valmont and the Marquise de Merteuil, form an unholy alliance and turn seduction into a game - a game which they must win.
This new translation gives Laclos a modern voice, and readers will be able a judge whether the novel is as 'diabolical' and 'infamous' as its critics have claimed, or whether it has much to tell us about the kind of world we ourselves live in.
David Coward's introduction explodes myths about Laclos's own life and puts the book in its literary and cultural context.
ABOUT THE SERIES: For over 100 years Oxford World's Classics has made available the widest range of literature from around the globe.
Each affordable volume reflects Oxford's commitment to scholarship, providing the most accurate text plus a wealth of other valuable features, including expert introductions by leading authorities, helpful notes to clarify the text, up-to-date bibliographies for further study, and much more.
Free Home Delivery
on all orders
Pick up orders
from local bookshops
Reviews
Showing 1 - 1 of 1 reviews.
Review by RebeccaAnn
16/06/2015
What a delightful, intriguing, naughty little book. This story tells the tale of the Vicomte de Valmont and the Marquis de Merteuil, two bored aristocrats who decide to amuse themselves through seduction and deceit. As printed on the back of the Oxford World's Classics edition: "In the ensuing vicious battle there can be no victors, an the innocent will suffer with the guilty."A bit of a warning, this book is not for those uncomfortable with sexual acts. Laclos's novel has been called, perhaps a bit rightly, a manual in seduction. There are so many affairs going on and people going around behind other people's back that sometimes, a character chart would have been helpful. To give you just a taste of what I'm talking about, here are the main storylines: The Vicomte de Valmont is a notorious womanizer. He has now set his eyes on a judge's wife, Madame de Tourvel, a very pious woman. While attempting to seduce her, he takes as his ward fifteen year old Cecile Volanges. She's young, pretty, and totally naive after having been raised in a convent. She's also in love with Chevalier Danceny, a twenty year old poet and musician, and he's in love with her. It's a very innocent sort of romance.The Marquis de Merteuil, one of Valmont's old flames, hates the Comte de Gercourt. Merteuil, who goes around with men as much as Valmont does with women, is angry at Gercourt for basically dumping her. Gercourt is engaged to Cecile. In order to get revenge on Gercourt, Merteuil tries to convince Valmont to seduce her as well. Meanwhile, she starts to seduce Danceny.Valmont initially doesn't want to, claiming it would be too easy. However, when Madame de Volanges, Cecile's mother, warns Tourvel of his reputation with the ladies (i.e. love 'em and leave 'em), Valmont decides to get revenge on the mother through the daughter.This is pretty much how the entire book goes. I, for one, loved it. Laclos provides us with a view of the French aristocracy in the 1700s. This book is his protest against the corruption he was witness to. He also addresses some serious issues, such as women's rights. There is one slightly disturbing rape scene in the book where the one who's doing the raping convinces his female victim that she is helpless. He's in her room at night. Were anyone to spot them, her reputation would be ruined and he would get a slap on the wrist. Laclos's skill as a writer is evident as he manages to show the reader these very serious issues through the letters flippant and artificial tone. All in all, I'd definitely recommend this book. If you're not sure, perhaps try watching the movie <i>Cruel Intentions</i>. It was based off of Les Liaisons Dangereuses.
Also in the Oxford World's Classics series | View all