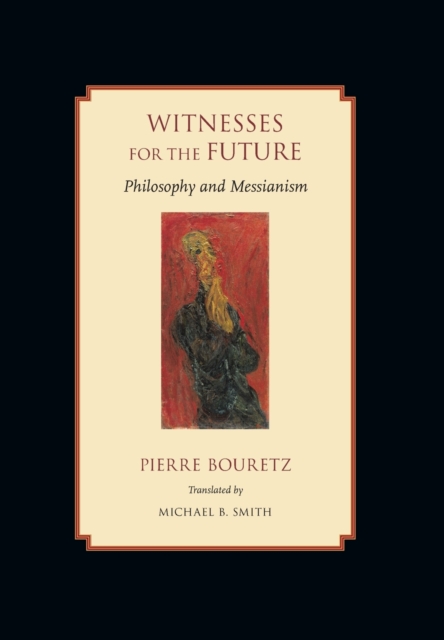 Witnesses for the Future : Philosophy and Messianism
Hardback
Description
To the horrors of war and genocide in the twentieth century there were witnesses, among them Hermann Cohen, Emmanuel Levinas, Ernst Bloch, Leo Strauss, Franz Rosenzweig, Gershom Scholem, Walter Benjamin, Martin Buber, and Hans Jonas.
All defined themselves as Jews and philosophers. Their intellectual concerns and worldviews often in conflict, they nevertheless engaged in fruitful conversation: through the dialogue between Zionist activism and heterodox forms of Marxism, in the rediscovery of hidden traditions of Jewish history, at the intersection of ethics and metaphysics.
They shared a common hope for a better, messianic future and a deep interest in and reliance on the cultural sources of the Jewish tradition.
In this magisterial work, Pierre Bouretz explores the thought of these great Jewish philosophers, taking a long view of the tenuous survival of German-Jewish metaphysical, religious, and social thought during the crises and catastrophes of the twentieth century.
With deep passion and sound scholarship, Bouretz demonstrates the universal significance of this struggle in understanding the present human condition. The substantial and established influence of the book's subjects only serves to confirm this theory.
Profoundly learned and amply documented, Witnesses for the Future explains how these important philosophers came to understand the promise of a Messiah.
Its significant bearing on a number of fields-including religious studies, literary criticism, philosophy of history, political theory, and Jewish studies-encourages scholars to rethink and reassess the intellectual developments of the past 100 years.
Information
Format:Hardback
Pages:984 pages
Publisher:Johns Hopkins University Press
Publication Date:24/12/2010
Category:
ISBN:9780801894503
Information
Format:Hardback
Pages:984 pages
Publisher:Johns Hopkins University Press
Publication Date:24/12/2010
Category:
ISBN:9780801894503