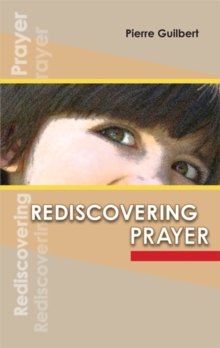 Rediscovering Prayer
Paperback / softback
Description
This book has no other ambition than to pass on an experience, that is to say, it is the telling of a story, a road that has actually been travelled.
What reassures the author is that it is the work of Another, with the joys and the difficulties, the lights and the nights, in a word, all that goes to make up a story.
As for himself, he has done nothing but receive. But no one receives anything just for themselves, to make them wealthy, for their own satisfaction.
What you think you are keeping as a treasure, decays in your hand and rots.
Even the gifts of God are not immune from this, for 'He who seeks to save his life loses it' (Mt. 10, 39). You can know everything, with your head, about prayer, and yet not know how to pray.
No treatise has ever afforded anyone entry into that life of prayer to which you are aspiring.
You will not find it in this book either. You will only find it, or rather, in due course, you will only receive it, in your own heart, in the course of an experience that is all your own.
Information
Format: Paperback / softback
Pages: 138 pages
Publisher: New City
Publication Date: 02/02/2012
Category: Christian prayer
ISBN: 9781905039159
Free Home Delivery
on all orders
Pick up orders
from local bookshops