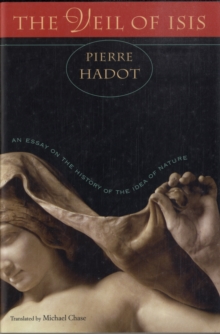 The Veil of Isis : An Essay on the History of the Idea of Nature
Paperback / softback
Description
Nearly twenty-five hundred years ago the Greek thinker Heraclitus supposedly uttered the cryptic words 'Phusis kruptesthai philei.' How the aphorism, usually translated as 'Nature loves to hide,' has haunted Western culture ever since is the subject of this engaging study by Pierre Hadot.
Taking the allegorical figure of the veiled goddess Isis as a guide, and drawing on the work of both the ancients and later thinkers such as Goethe, Rilke, Wittgenstein, and Heidegger, Hadot traces successive interpretations of Heraclitus' words.
Over time, Hadot finds, 'Nature loves to hide' has meant that all that lives tends to die; that Nature wraps herself in myths; and (for Heidegger) that Being unveils as it veils itself.
Meanwhile the pronouncement has been used to explain everything from the opacity of the natural world to our modern angst.
Information
Format: Paperback / softback
Pages: 432 pages, 18 halftones
Publisher: Harvard University Press
Publication Date: 16/09/2008
Category: Philosophy: metaphysics & ontology
ISBN: 9780674030497
Free Home Delivery
on all orders
Pick up orders
from local bookshops