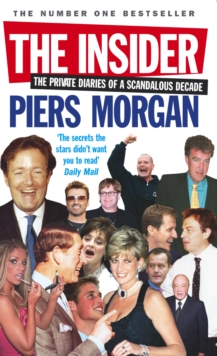 The Insider : The Private Diaries of a Scandalous Decade
Paperback
Description
The Insider dominated the media on publication in March 2005 and instantly became a No.1 bestseller.
Not only did it fill thousands of column inches with its revelations about prominent political and showbiz figures, it was critically acclaimed across the broadsheets for its unique and fascinating insight into the worlds of celebrity, royalty, politics and the media. Piers Morgan was made editor of the News of the World, the UK's biggest-selling Sunday newspaper at the record-breaking age of 28.
The decade that followed was one of the most tumultuous in modern times.
In a world of indiscreet dinners, private meetings and gossipy lunches, Piers Morgan found himself in the thick of it.
His diaries from this remarkable period reveal astonishing and hilarious encounters with an endless list of celebrities and politicians alike: Diana, William, Charles and Camilla; Tony Blair, Cherie, Gordon Brown; Paul McCartney, George Michael and Elton John; Jeremy Clarkson, Paula Yates and Gazza to name just a few. Entertaining, engaging and compulsive, The Insider was the most talked-about book of 2005, blowing apart every notion we have of politics, media and celebrity.
Free Home Delivery
on all orders
Pick up orders
from local bookshops
Reviews
Showing 1 - 5 of 6 reviews.
Previous | Next
Review by jontseng
16/06/2015
Persusasive in getting the reader onto the author's side - as the best tabloid journalism tries to do. It's breezily insightful - just don't believe everything it says.
Review by davidroche
16/06/2015
Some amusing half truths in here. Particularly good is the Madonna / Lester Piggott one.
Review by PIER50
16/06/2015
Sometimes, funny, sometimes rather sad in the way that it shows how the tabloid press work. Morgan is a huge self-publisist and clearly has a huge ego (see Epilogue 2 - " If it wasn't for you Piers...etc etc") Overal, quite a good read that can be picked up and put down at will. Some of thebackground to the headline stuff of the time is interesting, and if indeed true, quite revealing
Review by paperdust
16/06/2015
Relive the tabloid headlines and news of the '90s, and trace the rise and fall of Morgan's editorial career. Like him or loathe him, he has come a long way from regional reporter to CNN anchor, accumulating a dubious portfoili of friends and foes along the way.
Review by LARA335
16/06/2015
Funny, ebullient diary of Piers Morgan's time as editor of the Daily Mirror. He obviously loved meeting and socialising with the celebs, politicians and personalities of the day, and his enthusiasm and indiscretions make for a very entertaining and eye-opening jolly read.