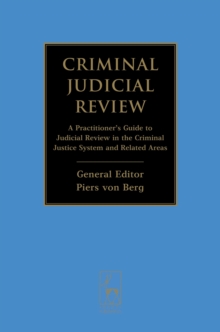 Criminal Judicial Review : A Practitioner's Guide to Judicial Review in the Criminal Justice System and Related Areas
Hardback
Description
This is a comprehensive guide to challenging decisions of criminal courts and public bodies in the criminal justice system using judicial review. Written by a team of criminal and public law practitioners, it considers claims for judicial review arising in the criminal justice system, which now represent a distinct area of public law.
These claims are set apart by special considerations and rules; for example, on the limits of the High Court's jurisdiction or the availability of relief during ongoing proceedings.
Criminal practitioners may lack the background to spot public law points.
Equally, public law specialists may be unfamiliar with criminal law and types of issues that arise.
Criminal Judicial Review is intended as a resource for both. The book deals with the principles, case law, remedies and, the practice and procedure for obtaining legal aid and costs. It will be of assistance to any practitioner preparing or responding to judicial review claims involving the following:- The Police and the Crown Prosecution Service. - Magistrates' courts, the Crown Court and Coroners. - Prisons and the Parole Board. - Statutory bodies such as the Independent Police Complaints Commission and the Legal Aid Agency. - Claimants who are children, young persons or have mental disorders. - The international dimension including extradition proceedings and European Union law. - Practical considerations such as CPR Part 54, remedies, legal aid and costs. From the Foreword by The Rt Hon Lord Judge"The book is offered in clear and simple style, focussing less on esoteric theoretical considerations and more on the practical needs of the practitioner.
It brings together materials relating to public law with which a criminal specialist may be less well informed, and material relevant to the criminal justice processes which may not be immediately apparent to the public law specialist.
It will assist with the preparation of arguments, and also enable submissions which are unarguable to be discarded.
It will therefore provide valuable guidance in this broad and developing area of practice."
Free Home Delivery
on all orders
Pick up orders
from local bookshops