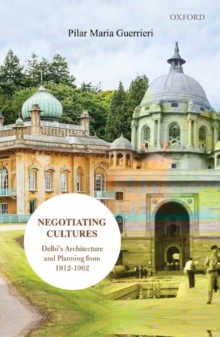 Negotiating Cultures : Delhi's Architecture and Planning from 1912 to 1962
Hardback
Description
This work is about the city of Delhi and its architectural and urban design styles from 1912, when the British Town Planning Committee for New Delhi was formed, to 1962, when the first Master plan was implemented.
It examines, from a historical perspective - the process of hybridisation between cultures, local architecture, and urban planning.
The work analyses architectural elements of the city of Delhi, to understand how foreign developmental models wereindigenized, the resistance encountered in the process, and finally their adaptation to local architectural contexts.
Used as a case study, the city of Delhi enables the author to explore the initial transition period when the mega-city was born and provides a crucial starting point to investigate theprocesses of globalization and urbanization.
The major emphasis of this work is to reveal the underlying social relations emerging from the constant flux in style of architecture and its related elements in an urbanized area.
The author deals with the complexities of 'multiple Delhis' with different or simultaneous pasts as well as with the various ways those pasts have been interpreted or contextualised, offering fresh insight into what is now happening in Delhi's builtenvironment.
Free Home Delivery
on all orders
Pick up orders
from local bookshops