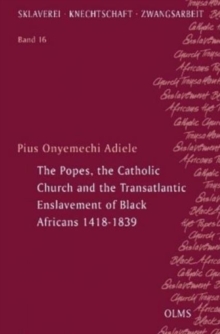 Popes, the Catholic Church and the Transatlantic Enslavement of Black Africans 1418-1839
Paperback / softback
Description
For over 400 years, Black African men, women and children suffered the worst type of enslavement and humiliation from the hands of Catholics and other Western Christians during the transatlantic slave trade.
Before now, no one could ever believe that the Popes of the Church were deeply involved in this Holocaust against Black African people.
Despite the claims made by the hallowed papal office in Rome in recent years that the Popes condemned the enslavement of peoples wherever it existed including that of Black Africans, recent researches in these fields of study have proved the contrary to be true.
The Church and her Popes were rather among the major role players in this worst crime against Black Africans in recorded history.
With the help of a considerable number of papal Bulls from the Vatican Secret Archives and a great amount of Royal documents from the Portuguese National Archives in Lisbon, the present book is aiming to undertake a critical and analytical inquiry of this aspect of the transatlantic slavery that has been kept in the dark for so many years by the Western historians and scholars.
The results of this studious but fruitful academic inquiry are laid bare in this notable work of the 21st century.
Pius Onyemechi Adiele is a Catholic priest of Ahiara Diocese Mbaise and an alumnus of Seat of Wisdom Seminary Owerri and Bigard Memorial Seminary Enugu in Nigeria.
He obtained his licentiate in Theology from the famous University of Munster and his doctoral degree in Church History from the renowned University of Tubingen in Germany.
At present, he is a research fellow in the areas of African Church History and Enslavement of peoples as well as the pastor in charge of the merged parishes of Lauchheim, Westhausen, Lippach, Roettingen and Hulen in Germany.
Information
Format: Paperback / softback
Pages: 590 pages
Publisher: Georg Olms Verlag AG
Publication Date: 01/08/2017
Category: Social & cultural history
ISBN: 9783487155975
Free Home Delivery
on all orders
Pick up orders
from local bookshops