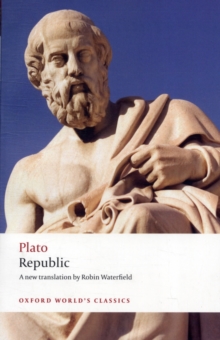 Description
Republic is the central work of the Western world's most famous philosopher. Essentially an inquiry into morality, Republic also contains crucial arguments and insights into many other areas of philosophy. It is also a literary masterpiece: the philosophy is presented for the most part for the ordinary reader, who is carried along by the wit and intensity of the dialogue and by Plato's unforgettable images of the human condition.
This new, lucid translation by Robin Waterfield is complemented by full explanatory notes and an up-to-date critical introduction.
ABOUT THE SERIES: For over 100 years Oxford World's Classics has made available the widest range of literature from around the globe.
Each affordable volume reflects Oxford's commitment to scholarship, providing the most accurate text plus a wealth of other valuable features, including expert introductions by leading authorities, helpful notes to clarify the text, up-to-date bibliographies for further study, and much more.
Information
Format: Paperback
Pages: 560 pages
Publisher: Oxford University Press
Publication Date: 17/04/2008
Category: Literary essays
ISBN: 9780199535767
Other Formats
Paperback from £3.99
Hardback from £8.35
CD-Audio from £13.05
Paperback / softback from £13.49
EPUB from £2.54
Free Home Delivery
on all orders
Pick up orders
from local bookshops
Reviews
Showing 1 - 3 of 3 reviews.
Review by BrynDahlquis
16/06/2015
Interesting and wordy. I'm pretty sure that Plato came up with the first dystopian society in history, as his ideal community sounds like the basic form of any futuristic world. Emotions are weeded out, the "best" are exalted while everyone else works, love is regulated, there are no such things as families... etcetera etcetera.One thing I'm not sure I like is that Plato writes as Socrates, but we'll never know if Socrates would've agreed with all these things. What if Plato is just putting things in Socrates's mouth? But I guess that's what you get when you don't write anything down (geez, Socrates).
Review by stillatim
16/06/2015
Just to be clear, my rating is for the edition of the Republic I read- the Oxford World's Classics text translated by Robin Waterfield. Giving stars to the Republic is so flagrantly stupid that I can't even come up with a suitably stupid analogy. Giving stars to the Mona Lisa? Not even close. Giving stars to Dante? Not the same, because that deserves five stars. The Republic simultaneously deserves five stars, for kick-starting Western philosophy, social science, aesthetics, theology, and political thought. It poses a bunch of difficult questions in a way that no book before it does. That said, the arguments it uses and the answers it reaches are ridiculous and ridiculously flawed. That's okay. If you're smart enough to ask questions that keep people talking for over two millennia, you're allowed to airball the answers. You can tear the arguments of this book apart in more ways than any other work of respectable philosophy: Aristotle is way more internally coherent, even the most moronic contemporary popular 'scientist' has less absurd assumptions. <br/><br/>Anyway, really I wanted to review the edition. It's great. Waterfield jettisons the random 'book' divisions of the Republic. Ideally, I guess, you'd just publish the thing as one long rant, but in the interests of user-friendliness Waterfield's split the text up into chapters, each one of which more or less features one argument. This makes the flow of the dialogue much easier to follow. He also breaks up steps in the arguments of the longer chapters, so you don't get lost even if you're kind of half-arsing your reading. For that alone, he'd get four stars, but his notes are *brilliant* too. Philosophically engaged, historically aware, never willing to play cheerleader to Socrates' more obvious gaffs, but willing to go out on a limb to defend something that initially seems implausible. Waterfield's guiding thread is that you really should read the book as what it says it is: an investigation into morality (often translated as justice elsewhere), which proceeds by way of analogy. The political stuff is secondary; the real goal is to defend the idea that the moral person is happier and better in the long run. I say all this despite disagreeing with Waterfield's argument that the forms aren't metaphysical. I know why philosophers say that; the idea that Plato thought there were real Divine Bedframes floating somewhere in the fifth dimension is ridiculous. But he pretty clearly thought that ridiculous thing. Not because he was an idiot, though: he wanted to anchor truth is something which actually existed, but acknowledged the real lack of truthiness/justice/morality in the world as he found it. Good for him.
Review by Poquette
16/06/2015
Plato's <i>Republic</i> is one of the world's most famous thought experiments. It is usually described as a treatise on justice in an ideal State, and while that is not incorrect, it is not the whole story. While the work is certainly of interest to students of philosophy and political science, it might also appeal to anyone interested in psychology and literature in general.The first thing one notices right off the bat is what a great writer Plato is. This great work of philosophy is presented as a conversation — seemingly without end! — which like other dialogues of Plato, engages the reader and draws him or her in with a surprising degree of wit and flare. We who are not philosophers per se might tend to think of philosophy as a dry and lifeless subject, but in Plato's hands, it can be quite fascinating and certainly never dull.The <i>Republic</i> is not an easy place to begin with Plato because of its sheer length and the scope of ideas it covers, but with some patience it is not an entirely bad place to begin, either.For whatever reason, reading ancient Greek literature in English translation seems to be fraught with difficulties. It may be because of the limited vocabulary available within the ancient language as compared to a polyglot language such as English with its agglomeration of words from literally everywhere. But word choice can make a huge difference in the tone and feel of the material.For example, as mentioned above, most modern translations of the <i>Republic</i> are concerned with "justice" in an ideal "state," which sounds rather remote, abstract and high-minded, leaving a perception of difficulty. Robin Waterfield has tried to be more precise in his translation. The Greek word <i>dikaiosune</i> is usually translated as "justice," but Waterfield says the word <i>"refers to something which encompasses all the various virtues and is almost synonymous with 'virtue' in general."</i> In his translation the <i>Republic</i> is about <i>"morality — what it is and how it fulfils one's life as a human being."</i> Also, instead of "state," Waterfield has substituted the word "community." In combination, the idea of morality in the community brings the whole discussion down to a more personal level. I appreciated the change and the more personal tone of the entire work.At any rate, philosophy aside because I am singularly unqualified to utter even platitudes on the subject, I enjoyed reading Plato's <i>Republic</i>. It was a much different book than I was expecting. Of course, having recently read Eric Havelock's [Preface to Plato], I was reading with an agenda — namely, to see whether his assessment of the <i>Republic</i> was correct, and while I appreciate his perspective, I feel <i>his</i> agenda got in the way of presenting a complete picture. I also came away from this reading believing that many critics and commentators attribute more dogmatism to Plato than was really intended. The notion that he, through his mouthpiece Socrates, was setting up an ideal state, a sort of communist utopia, is an overstatement. While he did conclude that in his so-called ideal state the rulers would have no personal property and that they would be philosopher kings (and by implication queens), he also admitted many times throughout the discussion that <i>"the community we've just been founding and describing can't be accommodated anywhere in the world, and therefore it rests at the level of ideas."</i> Thus my initial suggestion that the <i>Republic</i> is a thought experiment, and the ideal state or community is a notion to be thought about and discussed but never to be realized. Something called "human nature" will prevent anything like it ever working in the real world. The ideal was created as a paradigm within which to explore the subject of whether a just or moral person is happier than an injust or immoral person, and incidentally, to try to define the nature of goodness. Socrates was only able to come up with various allegories to illustrate his points about what constitutes goodness, but he never delivered a definition as such.But that is in the nature of Plato's dialogues, which consist of many questions and few definitive answers. The pleasure in reading comes from the plethora of ideas that arise out of the conversations between Socrates and his interlocutors.In addition to the political level, Plato constantly reminds us that <i>"We should bear in mind the equivalence of the community and the individual,"</i> and that a just society reflects the just or moral character of the individuals of whom it consists. What works at the community level he also tries to apply to the individual, not always successfully. The success of the community is dependent upon the education of its people and adherence to its customs. Education as discussed in the <i>Republic</i> applies to the rulers or "guardians," but in an open democratic society it must apply to everyone.The <i>Republic</i> is not by any means a quick read, and the more time spent, the more one will get out of it. Robin Waterfield's translation in the Oxford World Classics series is excellent in addition for its introduction and extensive notes which help to guide one through the many digressions and to pinpoint the salient ideas.
Also in the Oxford World's Classics series | View all