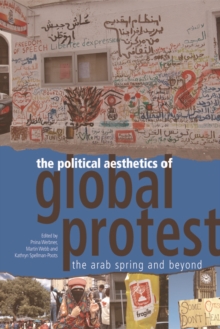 The Political Aesthetics of Global Protest : The Arab Spring and Beyond
Paperback / softback
Description
This explores the aesthetic dimensions of the Arab Spring and the worldwide protest movements that followed.
From Egypt to India, and from Botswana to London, worker, youth and middle class rebellions have taken on the political and bureaucratic status quo.
When most people can no longer earn a decent wage, they pit themselves against the privilege of small, wealthy and often corrupt elites.
A remarkable feature of the protests from the Arab Spring onwards has been the importance of images, songs, videos, humour, satire and dramatic performances.
This book explores the central role the aesthetic played in energising the massive mobilisations of young people, the disaffected, the middle classes and the apolitical silent majority.
Discover how it fuelled solidarities and alliances among democrats, workers, trade unions, civil rights activists and opposition parties.
It includes over 150 colour illustrations showing how visual media is used in protest movements across the globe.
It offers a diversity of perspectives from political, media, visual, economic and linguistic anthropology, and the anthropology of work, art, social organisation and social movement.
Information
Format: Paperback / softback
Pages: 448 pages, 151 colour illustrations
Publisher: Edinburgh University Press
Publication Date: 31/05/2014
Category: General arts
ISBN: 9780748693351