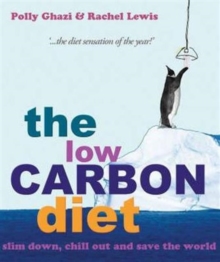 Low-Carbon Diet
Paperback
Description
"The Low Carbon Diet" is for all those out there who really want to save the planet (but just haven't got round to it).
It provides an easy-to-follow programme for individuals and families to cut down the carbon calories they consume at home, on the road and at play.
If you only try one diet this year, make it this one.
No preaching, no doom-mongering. Just practical, achievable, everyday actions that can make all the difference - to your carbon weight, bank balance and fitness level.
Not to mention the health of the only planet we have.
Information
Format: Paperback
Pages: 108 pages, Illustrations
Publisher: Short Books Ltd
Publication Date: 01/01/2007
Category: The environment
ISBN: 9781904977988
Free Home Delivery
on all orders
Pick up orders
from local bookshops
Reviews
Showing 1 - 1 of 1 reviews.
Review by adpaton
16/06/2015
THROW away all those other diet books — Dr Atkins, X-Factor, South Beach — they're just fads and don't really work in the long term. The low carbon diet is the only one to follow and although you might not lose any weight, you will help save the world. Imaginative, visually sensational, practical and with completely compelling content, this is a series of tips and procedures we can all follow to cut our consumption of the "carbon calories" causing climate change. "The best guess of the world's top climate scientists is that we have 10-15 years to switch, en masse, to a low carbon diet. If we do that, most of the planet should remain habitable to humans (though probably not for polar bears and maybe not for penguins). If we don't, all bets are off," the authors warn.We all know the harm caused by deforestation, the plundering of the seas, toxins industry pumps into the rivers, pollutants belched into the atmosphere, and so on and so on … But most of us feel impotent when it comes to doing anything about it. This book provides an easy programme of "practical, achievable, everyday actions that can make all the difference".While it is true the amount of greenhouse gas emissions produced by Sub-Saharan Africa is negligible on a global scale, we are one of the regions most adversely affected by climate change. The only problem with The Low Carbon Diet is it is written by English authors and many of their tips — such as double-glazing your windows, insulating your home, and sealing your fireplaces — are unnecessary in our climate.And while many South Africans might like to buy a hybrid car, walking all distances less than two miles, buying local and taking public transport are unavailable, too expensive or too dangerous. The list of the "10 worst diet-busters" reveals what we can and should do, and includes such no-no's as never switching off appliances, having an old leaky geyser, owning unnecessary vehicles, and shopping too much!Save money and carbons in the kitchen by defrosting your fridge regularly; hanging up rather than tumble drying your laundry; filling your washing machine as much as possible and only with items that really need to be cleaned and doing only cold washes. Deal immediately with dripping taps and always use the plug when using the wash basin; use the microwave as much as possible, but switch off all appliances at night, including TV, DVD, hi-fi, computer and cellphone charger. Even on standby mode they draw electricity — powering the microwave clock alone "can use as much energy in a year as is used for cooking". In water-poor SA, water-saving tips are especially relevant: using a dishwasher, a packed washing machine, fixing leaks and drips, brushing teeth with the tap off, and installing some sort of econo-flush on the loo (saves up to 5000l per person annually) are all painlessly easy and inexpensive ways of conserving water. Then there is the shower not bath option: having turned down my geyser to 60°C, a five-minute shower just might not do it for me, especially if — as recommended — shared. Systematic recycling is another way to "wise up, chill out and save the world": in the northern suburbs of Johannesburg, this is fairly easy as there is invariably a shopping centre within a walkable two miles containing glass, paper and plastic igloos to which we can lug our bottles, bags and junk mail on the weekly shopping trip. You read of Americans who exist by selling blood and cans so, after being hoodwinked by a misleading exhibit at the Pretoria Show promising 3c per can, my family started collecting the wretched things. Three years and three carloads of compressed cat food, beer, baked bean and soup cans later, we expected a massive payday. Alas, how wrong we were. Since then, tins go in the bin.Then there is the Garden Diet, with an emphasis on indigenous, drought-resistant plants (let's face it, roses are greedy and overrated), rainwater tanks, timed irrigation systems, organic gardening and composting — all of which is fairly old hat to most South African gardeners. Although many of us already do most of these world-saving things (with the exception of the shared winter shower), if we really want to make a difference and possibly save some polar bears and penguins, some major suffering is required. Buy local (saves on transportation), eat raw (saves on cooking), avoid meat (@%$!!!) and grow your own organic food whenever possible. Water your garden with recycled shower water, pumped by a wind, water or sun-powered device, and mulch with your own organic waste. Never buy anything that cannot be recycled: no disposable lighters, no disposable razors, no paper towels; stopper bottles with cork not plastic and use elbow grease and a cold wash to get those lipstick stains out of your linen napkins. You are empowered to choose your own level of environmental commitment, knowing that whether you turn the light off whenever you leave the room, or buy a hybrid car and use only solar power, every bit helps. The bottom line remains though — that we must adapt, or die.