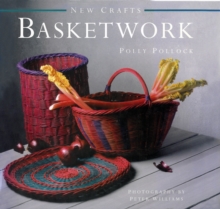 New Crafts: Basketwork : 25 Practical Basket-making Projects for Every Level of Experience
Hardback
Description
This title features 25 practical basket-making projects for every level of experience.
The beauty of traditional basketwork is shown in 25 contemporary projects.
It offers complete step-by-step instructions for original projects, from a classic fruit-picking basket and linen basket to a decorative platter, a Christmas door ornament and a hedgerow wreath.
Techniques and projects are shown in over 300 photographs by award-winning photographer, Peter Williams, making the tasks clear and easy to follow.
It is a comprehensive course in all the historic techniques in cane and willow, with projects suitable for all levels of experience.
It features a gallery of contemporary pieces by leading basketry artists.
Basketry, one of the most ancient crafts, evolved from a practical need to collect and transport food, using materials gathered from nature.
Basket-makers draw on the techniques developed in the past to create objects of great beauty, from both traditional cane and willow to more modern media such as wire, cardboard or plastic.
This comprehensive course in basket-making techniques includes 25 wonderful projects for crafters of all levels. Simple yet effective ideas include a woven fan and willow door decorations; more advanced projects range from traditional items such as a blackberry basket to an abstract platter and a contemporary linen basket made from dyed cane.
An expert introductory section teaches all the necessary skills in easy-to-follow step-by-step photographs, and also includes all the information the reader will ever need on materials and equipment.
With the addition of an inspirational gallery of basketwork by professional artists, this book is not only a fantastic crafter's handbook, it is also a visual celebration of this timeless art.
Free Home Delivery
on all orders
Pick up orders
from local bookshops