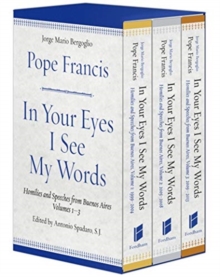 In Your Eyes I See My Words : Homilies and Speeches from Buenos Aires, 3 Volume Boxed Set
Mixed media product
Description
Perfect for gift giving, the complete three-volume boxed set of In Your Eyes I See My Words gives readers an extraordinary opportunity to understand the vision of Pope Francis Volume 1 (1999-2004)Pope Francis is a first in many ways: the first pope from the Americas, the first Jesuit, the first Francis, the first child of immigrants from the Old World, nurtured and transformed by the New World and returned to lead the whole world.
His eloquent homilies and speeches have inspired the faithful of Argentina for decades, largely through his gift of oratory, tracing back to his time as a bishop, archbishop, and cardinal in his home country.
Published in English for the first time in their entirety and with contextual annotations, In Your Eyes I See My Words, Volume 1 collects his homilies and speeches from 1999 to 2004. This illuminating collection presents an extraordinary opportunity to understand the vision of a great pastor.
His words bear witness to the deep experience of faith among God's people while also showcasing his own extraordinary ability to connect with communities of faith.
Through these homilies and speeches, Pope Francis humbly displays his abilities as a wordsmith, a patient and attentive teacher, an inspired and faithful theologian, and a sensitive pastor uniquely attuned to his people, offering ready guidance for their journeys but also journeying with them. The first of a three-volume translation of Pope Francis's theological, pastoral, anthropological, and educational thought provides rich insights into the mind and theological unfolding of a spiritual leader who has become beloved across the globe.
Within it we see Archbishop Jorge Mario Bergoglio-later Pope Francis-ministering to the needs of the people while also engaging with the political, technological, and societal forces affecting their daily lives.
Here is an ecclesial voice not afraid to challenge the politicians, the culture-makers, and media moguls-even his own ordained and lay church ministers-to live a life of faithfulness marked by justice, equality, and concern for the needs of everyone, urging all to rely on the "vitality of memory" and the "recovery of hope." In Your Eyes I See My Words also provides a glimpse into the political, social, and religious environment of Argentina and Latin America, providing a unique perspective on the issues confronting the faithful and how those issues motivated and nurtured Pope Francis's understanding of the Church's mission to all segments of society-particularly to those underrepresented and on the margins of history. Volume 2 (2005-2008)In Your Eyes I See My Words, Volume 2 contains Pope Francis's homilies and speeches from 2005 to 2008.
Continuing what began in the first volume of this three-volume publication, Volume 2 shows Archbishop Bergoglio's growth as a pastor and a theologian/scholar in the midst of his people.
At the same time, it shows him emerging as an international voice calling for changes in the way the Church carries out its ministry and its educational task on behalf of children, youth, adults, and Church ministers.
In his homilies from Christmas, Easter, and especially in his response to the tragic fire and deaths of 194 people at the nightclub Republica Cromanon, we see Bergoglio speak passionately to his parishioners, challenging them with equal portions of tenderness and righteous anger.
Perhaps uniquely, we also watch as his audiences, prominence, and influence grow globally, foreshadowing who he will become in 2013 when he is elected Pope. On the larger national and international scale, Bergoglio addresses various conferences, such as the Argentina Press Association and the Episcopal Conference of Argentina of which he was elected President in 2005 and served the maximum possible term of six years.
We see and read as his work takes him outside his country to Rome (2007) at the Pontifical Commission for Latin America; to Brazil (2007), where his presentation on the Crisis of Civilization and Culture at the Fifth CELAM Conference ends up shaping much of the Aparecida Conclusions; and, finally, to Quebec (2008) as he speaks at the FortyNinth International Eucharistic Congress.
All told, In Your Eyes I See My Words, Volume 2 is a glimpse into a period of time in which Archbishop Bergoglio grows immensely in thought, reflection, and action, laying the groundwork for the mature, thoughtful, and beloved Pope Francis he has come to be known as around the world. Volume 3 (2009-2013)In Your Eyes I See My Words, Volume 3 brings together the homilies and speeches of Archbishop Cardinal Jorge Mario Bergoglio from 2009 through his election as Pope Francis on March 13, 2013.
Taken together, all three volumes present with remarkable clarity his theological, educational, and pastoral vision for the Church that was shaped far from Europe and North America and in the tumultuous years of Argentina's political and economic struggles.
These writings provide an intimate glimpse into the theological, philosophical, scientific, and cultural-educational currents that forged the steady, loving, and nurturing hands with which Bergoglio guided the Church in Buenos Aires.
Those very same hands have now done the same for the Church from Rome, a Church rocked by financial and moral scandals, and a world shaken by the first global pandemic in a century. No Pope in modern times has compiled such a rich variety of writings in as many fields as Bergoglio has done for us in the years prior to his election to the papacy, especially during his time as Archbishop/Cardinal of Buenos Aires.
These writings were kneaded-a word he uses when talking about the work of molding the souls and character of youth and seminarians-in the relationships he formed in his bus rides to work and in his intense contact with all segments of the population. Because of that careful and prayerful process of kneading, they have found their full development in Bergoglio's writing as Pope Francis, especially in Evangelii gaudium (November 2013); Gaudete et exsultate, On the call to sanctity (March 2018); and his encyclical Laudato si' (May 2015).
In this final volume of Bergoglio's homilies and papers we meet European theologians and thinkers such as Hans Urs von Balthasar, Henri de Lubac, and Bergoglio's Uruguayan philosopher and friend Methol Ferre, the literary figure Miguel Angel Asturias, and Enrique Santos Discepolo, a singer and composer of tangos that decry corruption. In Your Eyes I See My Words, Volume 3 concludes with a homily Bergoglio prepared before leaving for Rome to attend the conclave that elected him to the papacy.
It was for the Chrism Mass on Holy Thursday, to be delivered to his priests in Buenos Aires.
Instead, it was his homily from Rome to the priests of the world, reminding them, "The precious oil that anoints Aaron's beard not only perfumes his person but spreads and reaches the margins.
The Lord will say it clearly: his anointing is for the poor, the prisoners, the sick, those who are sad and alone." Here, as Cardinal Jorge Mario Bergoglio became Pope Francis, he spoke words of deep tenderness, reminding all of us that the Lord's anointing is meant precisely for those who are floundering-those who are sick, who are sad or alone, who are in need of care.
In short, the Lord's anointing is meant for the world we live in today, at this exact moment of crisis.
In a prophetic conclusion, the last homily of this volume is an outline of the road map Pope Francis has followed throughout his papacy: one defined by ongoing love and care for God's people and that seeks to spread God's anointing to those living on the margins of life.
Information
Format:Mixed media product
Publisher:Fordham University Press
Publication Date:30/03/2021
Category:
ISBN:9780823294947