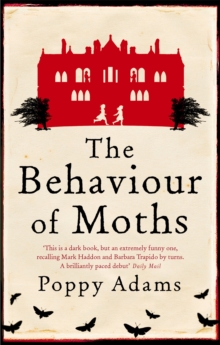 The Behaviour of Moths
Paperback
Description
From her lookout on the first floor, Ginny watches and waits for her younger sister to return to the crumbling mansion that was once their idyllic childhood home.
Vivien has not set foot in the house since she left, forty-seven years ago; Ginny, the reclusive moth expert, has rarely ventured outside it.
But with Vivien's arrival, dark, unspoken secrets surface.
Told in Ginny's unforgettable voice, this debut novel tells a disquieting story of two sisters and the ties that bind - sometimes a little too tightly.
Information
Format: Paperback
Pages: 320 pages
Publisher: Little, Brown Book Group
Publication Date: 02/07/2009
ISBN: 9781844084883
Free Home Delivery
on all orders
Pick up orders
from local bookshops
Reviews
Showing 1 - 5 of 7 reviews.
Previous | Next
Review by riverwillow
16/06/2015
An interesting Gothic tale. The Stone family have for generations been fascinated by moths, and Ginny is the last of the Stone lepidopterists, living as a recluse in the crumbling family home. The story starts as her younger sister, Vivi, returns home following nearly fifty years of exile. Ginny tries to understanding her conflicting emotions surrounding Vivii's by trying to recall and understand their dysfunctional past - just why everyone though she was 'special', apart from being a famed lepidopterist that is - and why Vivi left. But can you believe everything Ginny says? This is a good, thought provoking read about the unspoken secrets every family shares.
Review by TheoClarke
16/06/2015
Only gradually does it become apparent that the protahonist is Aspergic in this dark tale of sibling rivalry and obsession. A tremendous debut intrigues but it does not demand rereading.
Review by lorraineh
16/06/2015
This book was bought for me by my brother and I began it with trepidation as I wouldnt have naturally picked it.And i really liked it.Its about an old lady and her interaction with her family as she grows up. This lady is 'special' and her special needs comes apparent as the book unfolds. Its clever it paces well and it has a way of making you understand how the family dealt with all its blows and issues in a gentle a sensitive manner.Would highly recommend
Review by SallyApollon
16/06/2015
The Behaviour of Moths By Poppy Adams Sally ApollonOverall Score: 6.5 out of 10Literary StyleI found this to be very readable, conversational style, funnily enough, the second book I've read in a row where the author directly addresses the reader. This is a device that I think this author used more effectively, as the style was more conversational, more intimate, for example she would start a train of thought with: "Did I tell you…"Themes CHANGE-METAMORPHOSIS: I had to bring this up, because at the outset, I thought that Vivi was going to be Ginny's salvation, to rescue her from herself, from her own self-imposed isolation. But it became more & more obvious as time wore on that Ginny's "cocoon" was impenetrable; that she had no desire for any kind of change, that it was not going to take place. It seemed like an obvious theme in the context, but it really didn't figure. TRUTH-SANITY: Intriguing because it seemed that the inherent truth of the central character, our narrator—was indeed insanity—although that was not obvious from the outset, indeed, all throughout the book I had this sustained belief that Ginny was odd, certainly, mentally ill, maybe a little, but it wasn't really until the end of the tale that as her world came crashing down you realized that you had been a part of her madness, her delusional unreality. This was difficult to perceive because her family DID keep her in a cocoon & did not appear to try & break her out of it. Was Vivi's life so mysterious to her because she took no interest, or did her family keep it from her to try & preserve her stability? It was impossible to say, but the result was that we, like Ginny actually knew very little about Vivi—which was frustrating; probably intentionally so, on the part of the author. Ginny was kept in the dark—like the moths. INTELLECTUAL STUDY VS PRACTICAL ABILITY: There was this small window on the world of intellectual fanatics, such as Clive and his cohorts, who were indeed misfits and not capable members of society. Sometimes I think people like this find careers in which they can obsess—and it has a useful outcome, even when the remains of their life & relationships are in tatters. Clive's colleague—who made offensive overtures to Ginny was a classic example of this.LOVE: Dysfunctional all of them: husband-wife, mother-daughter, father-daughter, sister-sister. It was disturbing to see how Ginny's relationship with her mother deteriorated as Maud declined into alcoholism, but more disturbing was the blind eye that Ginny's father and sister turned to it. Tragic that this was the only intimacy Ginny had, when she was colluding with her mother. And how odd was the surrogacy episode? Arthur was evidently a nice bloke who was in WAAY over his head with this family. From this point on, I was trying to diagnose Ginny. FREE WILL VS INEVITABLE (CHEMICALLY DRIVEN) BEHAVIOUR: I did find all the biological lepidopterist details completely absorbing and could quite follow Clive's train of logic about there being no free will—I have thought the same myself at various times in my life. I do find it compelling that Moths will always do the same behaviour in response to the specific chemical-mediators. With the exception of the cannibalistic Moths…I thought that episode was very funny: Arthur to Vivi: "How do you know it's a cannibal" "You just know". That was the singular unifying moment for this family; it had a parallel to their treatment & acceptance of Ginny, in the same way they just knew & accepted that she was different & isolated her. GOD VS NO-GOD: This follows on from the above—the most interesting and poignant part was when Ginny was listening to the church service & simultaneously watching the invaded ants nest. She curiously heard herself being prayed for, which I thought would become an insightful moment for her, but while Ginny rejected God wholesale, I felt that her need for him was exposed when she saw her sister ignore her baby's grave and was so emotionally wounded by it. That, to me, demonstrates emotions locked deep away (not absent altogether)—which is why she became so angry, enough to kill her. NOT that she genuinely had no need for or regard for God, but that her life had been a steadily built up defense from him and others.SECRETS: How secrets can turn on you & destroy lives. The baby-secret. The alcoholism-supposed secret. The mental illness secret. The physical abuse secret.CharacterizationGINNY: Very well drawn. I was very sympathetic toward her, until she put the arsenic in the milk. I think I decided in the end that she was probably paranoid-schizophrenic, but I'd have to check my facts on that one.VIVI: I guess she was like many adults who have literally run away from dysfunctional-toxic families. Truth was we learned very little about her—especially how she felt about the baby & how her marriage fell apart—another story, I suppose.MAUD: I don't know too much about alcoholism from the inside, but I'm guessing the author does, as this feels all too true.CLIVE: What a cowardly man! How he ran away from everything to hide in his work—and he was supposed to be the academic one. I thought Ginny was the alcoholic co-dependent; but it was really him who enabled it—Ginny didn't stand a chance.Overall, I really liked the book, I found the comments on aging & decay interesting too. It was not just the characters getting old physically, but the house was falling apart, as was their moral sense. Finally, I have to say that the first thing I thought about Moths was that their being drawn to the light was suicidal—it could kill them and it seemed that these characters spiraled closer & closer to the sun until they got burned.Afterword: I realized later that I had reviewed this book without making any comment about the fact that Vivi believed her father to have murdered their mother. When it came out it was almost secondary to Ginny's own issues, but it did go some way to explain Vivi's behaviour. It didn't seem true to me, the story was almost enough without this, it seemed superfluous.
Review by SaturdayReadingGroup
16/06/2015
I enjoyed this page turning read which didn't outstay its welcome, but it perhaps left a few too many loose ends at the conclusion. The restricted view of the first person narrator kept the atmosphere strange and confused - ultimately a bit too confused for me, to be honest. Due to the mysteries surrounding Virginia and her suspect storytelling I was expecting a big twist at the end - She's a ghost! She's been programmed to kill the President of the Royal Entomological Society! She's really a giant moth! Which, granted, would all have been awful ways to end the book but nevertheless it left me feeling a bit nonplussed and wanting a few more answers. But then again this did make me want to go back and try to fill in the gaps, which is the sign of a good story.Also, being somewhat scientifically illiterate I like a bit of science in fiction to make the hard stuff palatable and so appreciated the bits about lepidoptery. Although the three plot points concerning the moths did seem to fizzle out with no resolution. But maybe the moth equivalent of Moby Dick was not what Poppy Adams was aiming for.