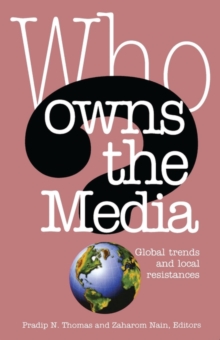 Who Owns the Media : Global Trends and Local Resistances
Paperback / softback
Description
The ownership of the media and issues related to the governance of global media institutions are of immense public significance.
Not only are the cultural industries a major source of contemporary power - economic, political, social - they are also the primary definers of consciousness in most parts of the contemporary world.
In the shadow of the recent decision by the Federal Communications Commission, USA, to dismantle restrictions on cross media ownership and similar initiatives in the UK and in other parts of the world, the issue of media ownership has been thrust on the world stage.
Fewer owners and greater concentration of media often result in the downgrading of plurality, diversity and access to a variety of opinion, and contribute to the hamstringing of democratic discourse.
The pro-war stance on Iraq, actively supported by mainstream media in the USA, is merely the latest example of the agenda-setting role of global media. Media ownership patterns and permutations today are a direct consequence of the globalisation of neo-liberal economics.
While there are some regional variations in the ownership 'mix', the trend from South Africa, to Argentina, India to East and Central Europe, clearly illustrated in the selection of writings in this volume, is towards privatisation, de-regulation, retreat from the state's public media responsibilities and the contraction of space for non-commercial, community-based media efforts. This collection of critical writings on media ownership from different parts of the world written by leading scholars including Robert McChesney, Dan Schiller, Cees Hamelink, Sean O'Siochru, Zhao Yuezhi and others, offers a richly textured, contextual reading of the political economy of contemporary media ownership.
Issues addressed include convergence, global media governance, IP, telecommunications regulation and deregulation, censorship, the role of the state, with a strong accent on the need for transparency, accountability and media diversity. This book is an invaluable resource for media scholars, students and policy makers.
Information
Format: Paperback / softback
Pages: 344 pages
Publisher: Zed Books Ltd
Publication Date: 18/11/2004
Category: Development studies
ISBN: 9781842774694
Free Home Delivery
on all orders
Pick up orders
from local bookshops