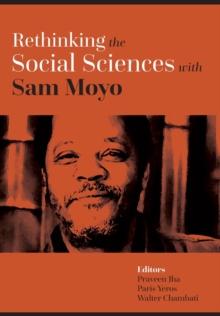 Rethinking the Social Sciences with Sam Moyo
Hardback
Description
This book brings together renowned scholars from four continents to celebrate the lifelong and seminal contribution of Professor Sam Moyo to the social sciences.
The late Prof. Moyo was a Zimbabwean scholar whose intellectual trajectory was part and parcel of the emergence of a critical scholarship from the 1970s onward based in the realities and traditions of Africa and the Third World.
His work influenced the global research agenda on diverse issues related to Africa and the South, and especially from the 2000s when he actively defended the importance of research on land and agrarian questions at a time when such issues were being dismissed as passe.
He went on to become a leading force in the creation of a South-South dynamic in research collaboration, in defense of the intellectual autonomy and epistemic sovereignty of the South.
Information
Format: Hardback
Pages: 388 pages
Publisher: Tulika Book
Publication Date: 31/01/2020
Category: Food & society
ISBN: 9788193926949