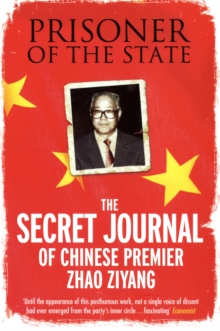 Prisoner of the State
Paperback / softback
Description
Prisoner of the State is the story of the man who brought liberal change to China and who, at the height of the Tiananmen Square protests in 1989, tried to stop the massacre and was dethroned for his efforts.
When China's army moved in, killing hundreds of students and other demonstrators, Zhao was placed under house arrest at his home in Beijing.
The Premier spent the last 16 years of his life, up until his death in 2005, in seclusion.
China scholars often lamented that Zhao never had his final say.
As it turns out, Zhao did produce a memoir, in complete secrecy.
He methodically recorded his thoughts and recollections on what had happened behind the scenes during many of modern China's most critical moments.
The tapes he produced were smuggled out of the country and form the basis for Prisoner of the State.
Although Zhao now speaks from beyond the grave, his voice has the moral power to make China sit up and listen.
Information
Format: Paperback / softback
Pages: 336 pages
Publisher: Simon & Schuster Ltd
Publication Date: 27/05/2010
ISBN: 9781847398574