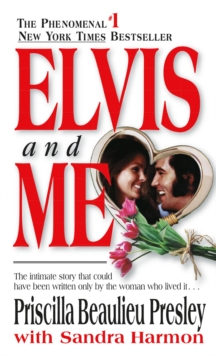 Description
The New York Times bestseller that reveals the intimate story of Elvis Presley and Priscilla Presley, told by the woman who lived it.
Decades after his death, millions of fans continue to worship Elvis the legend.
But very few knew him as Elvis the man. Here in her own words, Priscilla Presley tells the story of their love, revealing the details of their first meeting, their marriage, their affairs, their divorce, and the unbreakable bond that has remained long after his tragic death.
A tribute to both the man and the legend, Elvis and Me gives Elvis fans the world over an unprecedented look at the true life of the King of Rock N' Roll and the woman who loved him.
Information
Format: Paperback
Pages: 350 pages, illustrations
Publisher: Penguin Putnam Inc
Publication Date: 19/04/2003
Category: Rock & Pop music
ISBN: 9780425091036
Free Home Delivery
on all orders
Pick up orders
from local bookshops
Reviews
Showing 1 - 3 of 3 reviews.
Review by Duranfan
16/06/2015
The writing is not so great, basically an 8th grade reading level, but hearing Priscilla's story is gripping. I read this book in a matter of hours.
Review by slightlyfan
16/06/2015
A very fast read for me. I thought it was fasinating to see how their relationship started and flourished. You get to learn a lot about Elvis and how he lived. You could tell Priscilla really loved him; and still does to this day.
Review by bakersfieldbarbara
16/06/2015
I found this book at a sale and even though it is an older book, I heartily recommend your getting a copy from your local bookstore if you are an Elvis fan. Or know of one, because this book tells it all as known only by a wife and mother of his child. Priscilla Beaulieu Presley was an American living in Germany, although my understanding was that she was German. The fact was that her father was a military man stationed in Germany and thus the family wast there at the same time that Elvis was assigned his army deployment to that country. Much is told of how Priscilla lost her own identity and became what Elvis fashioned her out to be. Being of that generation, women were still thought of as a possession to the man, so at her young age, she blindly followed.His drug use, which was thought to start later in life, was always abundant, and Priscilla herself indulged for awhile. Having two affairs to get emotional needs met are also discussed. I see that the media made a story of a man who did many things wrong psychologically(slept with his mother...no sex) and had many 'friends' always around him...a little boy afraid to grow up. His life may have been different if the movie industry hadn't tempted him and his manager had not gotten him to do so many terrible movies. He was a wonderful singer, but not managed well. His death was inevitable, with his life style, but how sad to end it so desperately and with no thought to his daughter and what she needed in a daddy.I heartily recommend this book for those who have not heard the 'whole story' of Elvis and his life.
Also by Priscilla Beaulieu Presley