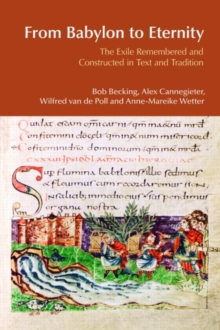 From Babylon to Eternity : The Exile Remembered and Constructed in Text and Tradition
Paperback
Description
The exile of the Jewish people in Babylon in the 6th century is generally perceived to have been a time of sorrow and despair. 'From Babylon to Eternity' recreates the history of the exile to deconstruct this traditional image.
The biblical image of the exile is shown to be multifaceted - the tradition of a people tied to their God-given land was challenged by foreign occupation but the concept of exile eventually incorporated into Jewish culture.
The book explores the identity-shaping function of the exile, its role in Jewish thought up to the present day, and Christian reinterpretations of the dispersion of the people of Israel. 'From Babylon to Eternity' will be of interest to students and scholars of the Hebrew Bible and Jewish history.
Free Home Delivery
on all orders
Pick up orders
from local bookshops
Also by Prof. Dr. Bob Becking