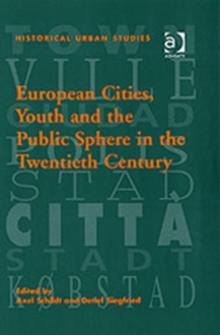 European Cities, Youth and the Public Sphere in the Twentieth Century
Hardback
Description
The late nineteenth century witnessed unprecedented levels of urban growth as migration swelled the population of European cities to new heights.
The resulting problems of overcrowding and inadequate civic utilities prompted the governing elites to look for new planning solutions to address the needs of an increasingly urbanised society.
At the same time young people were also increasingly recognised as being adversely affected, both politically and morally, by the on-going process of urbanization.
Church groups, civic authorities, middle-class reformers and political movements all tried to steer youth toward their own concept of respectable behaviour, concepts that often tended to share many similarities in their paternalistic emphasis upon social discipline. This volume directly addresses the confluence of these issues, the point at which the city government, youth and public space meet and the resulting problems and tensions that were often created.
Whether it be the corruption of the rural youth flooding into the cities at the beginning of the twentieth century, battles between Hitler Youth and working-class gangs in Nazi Germany, hooliganism in 1950s Hungary or the appropriation of, or withdrawal from, public spaces by youths in more recent times, all the chapters in this book explore ways in which authorities and adult groups have sought to control young people, both directly and indirectly. Drawing on a broad selection of methods and disciplines, a wide variety of case studies from across Europe are used to investigate the interactions between youth and authority, and show how these adapted and changed over time and in different countries.
By taking a fresh look at these issues within a comparative framework, this volume furthers our understanding of modern European society during the twentieth century.
Information
Format: Hardback
Pages: 176 pages
Publisher: Taylor & Francis Ltd
Publication Date: 27/05/2005
Category: Regional studies
ISBN: 9780754651734
Also in the Historical Urban Studies Series series | View all