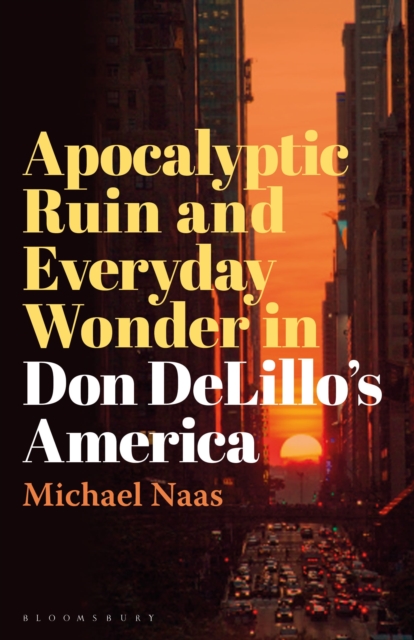 Apocalyptic Ruin and Everyday Wonder in Don DeLillo's America
Paperback / softback
Description
Apocalyptic Ruin and Everyday Wonder in Don DeLillo's America is a fresh and engaging study of "last things" in Don DeLillo's works-things like death, mourning, and the decline of the American empire, but then also the apocalypse, the last judgment, and the end of the world more generally.
Michael Naas untangles complex themes in short, witty chapters that highlight and celebrate DeLillo's inventive and playful writing, employing a novel approach to literary criticism.
Making no use of secondary sources, the book is entirely a discussion of DeLillo's work, accessible to any level of readership while maintaining a firm grasp of the theory necessary to make this unique argument. And yet, this book is also about all the things that double or shadow those last things in the very same works, like the wonder of language or the radiance of everyday events.
From Americana (1971) up through Zero K (2016) and The Silence (2020), and perhaps like no other American author, Don DeLillo has created meaning by contrasting, juxtaposing or, as Naas calls it here, "contrabanding" first and last things, conflicting or opposing forces such as life and death, creation and destruction, consumption and waste, everyday wonder and apocalyptic ruin, the origins of language and the end of the world.
In his adept demonstration of how DeLillo has returned repeatedly to these "last things," Naas shows how the works of Don DeLillo have been there for more than half a century to remind us of one simple and yet profound truth-nothing lasts forever.
Information
Format:Paperback / softback
Pages:272 pages
Publisher:Bloomsbury Publishing Plc
Publication Date:17/11/2022
Category:
ISBN:9781501390685
Information
Format:Paperback / softback
Pages:272 pages
Publisher:Bloomsbury Publishing Plc
Publication Date:17/11/2022
Category:
ISBN:9781501390685