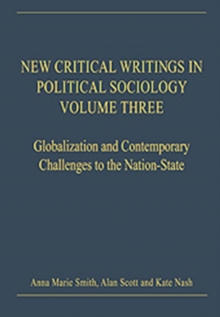 New Critical Writings in Political Sociology : Volume Three: Globalization and Contemporary Challenges to the Nation-State
Hardback
Description
In the third and final volume of this series, we examine the implications of the accelerating globalization process for the nation-state.
Are globalization, the rise of regional and international institutions, and the international agreements on human rights actually reducing and transforming state sovereignty?
Clearly ethnic, racial, and religious identities remain salient, but how do they correspond to, intersect with, and overflow continuous nation-state spaces that are demarcated by legally recognized borders?
In what conditions do democratic state-building projects actually enhance political, civil, and social rights, and when do they tend to contribute to the consolidation of elite power?
Should democratic forces put their faith in a cosmopolitan vision of global citizenship, especially when they tackle quintessentially international and transnational problems like peace, aboriginal rights, and the protection of the environment?
In this volume's collection of contemporary political sociologists' key articles, we present work that explores the exposure of the nation-state and the post-World War II world system to global forces.
Information
Format: Hardback
Pages: 468 pages
Publisher: Taylor & Francis Ltd
Publication Date: 18/02/2009
Category: Sociology
ISBN: 9780754627562
Also in the New Critical Writings in Political Sociology series | View all