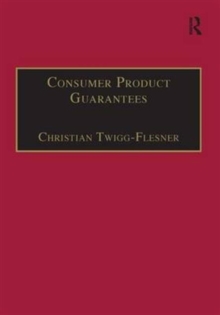 Consumer Product Guarantees
Hardback
Description
This book presents a detailed analysis of the function of consumer product guarantees and the related legal issues.
It applies research findings from the fields of consumer complaining behaviour, marketing science and economics to the legal context.
Its central argument is that guarantees could be one way of assisting consumers in resolving product quality disputes.
Consumers tend to seek to resolve such disputes informally by complaining, rather than by seeking to go through the courts or structured forms of alternative dispute resolution. Such complaints can be supported by encouraging reliance on consumer product guarantees, particularly where consumers also enjoy strong legal rights.
With this in mind, the book develops a legal framework for consumer guarantees, which is based on two key principles: fairness and transparency. There then follows an analysis of English and EC provisions on guarantees, as well as of relevant US law.
Particular consideration is given to the relationship between consumer guarantees and statutory rights.
Information
Format: Hardback
Pages: 240 pages
Publisher: Taylor & Francis Ltd
Publication Date: 18/08/2003
Category: Sale of goods law
ISBN: 9780754621867
Also by Professor Christian Twigg-Flesner | View all