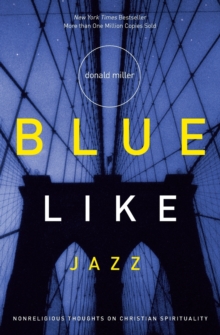 Blue Like Jazz : Nonreligious Thoughts on Christian Spirituality
Paperback
Description
"I never liked jazz music because jazz music doesn't resolve.
I used to not like God because God didn't resolve. But that was before any of this happened." ?Donald MillerIn Donald Miller's early years, he was vaguely familiar with a distant God.
But when he came to know Jesus Christ, he pursued the Christian life with great zeal.
Within a few years he had a successful ministry that ultimately left him feeling empty, burned out, and, once again, far away from God.
In this intimate, soul-searching account, Miller describes his remarkable journey back to a culturally relevant, infinitely loving God.For anyone wondering if the Christian faith is still relevant in a postmodern culture.For anyone thirsting for a genuine encounter with a God who is real.For anyone yearning for a renewed sense of passion in life.Blue Like Jazz is a fresh and original perspective on life, love, and redemption.
Information
Format: Paperback
Pages: 256 pages
Publisher: Thomas Nelson Publishers
Publication Date: 01/01/2001
ISBN: 9780785263708
Free Home Delivery
on all orders
Pick up orders
from local bookshops
Reviews
Showing 1 - 5 of 56 reviews.
Previous | Next
Review by svdodge
16/06/2015
This is such a great book. Don Miller has a wonderfully humble and genuine voice. The book is basically a chronological set of essays and stories, thus making it a fairly easy read. This is NOT your typical Christian book. Don talks about alcohol and smoking every once in a while, and you get the feeling that this is a guy who's spent a lot of time honestly figuring out his place in life, society, and the spiritual realm. And while some people might take the book at it's surface and see a barely-spiritual, self absorbed "dude," those readers who take the time to investigate the stories and compare them to their own lives will find that Don is very aware of is place in the world, that he has a strong spiritual base, and that he'd be totally thrilled to sit down with anyone and talk about life.I really really enjoyed this book, all the times I've read it. It's made me think hard about my faith, sparked hundreds of discussions, and provided fuel for my spiritual walk.
Review by ScottBridwell
16/06/2015
Not be best edited book, therefore it is at times a little difficult to follow.When reading the book there were times I thought...I can actually articulate that? You know...those thoughts about life and faith that you felt weird about saying.I liked the book and would consider it a must read.Also...I think the chapter "penguin sex" is based on the movie "march of the penguins".
Review by madrigal32
16/06/2015
Very pleasantly surprised. Not highly intellectual, engaging, never dragging, and while I violently disagreed with some of his assertions, I found myself fervently agreeing much more often. I made it about half way through the book, completely absorbed, before I absolutely had to grab a pencil and start scribbling all over the pages; the text calls for thought and interaction.I feel every Christian should read this book, while scribbling all over it themselves, if not to shed light on their own thoughts, to shed light on those of their brothers.
Review by polingspig
16/06/2015
I love this book. I haven't read anything from Don Miller before, and I disagree with him on some issues (I won't go into that here. I actually like Bush.) I respect Miller for having his views and that is all. I think his writing is real and I have had many of the same thoughts and concerns about my own faith as he writes about. This book has impacted my life in a very positive way. I am going to actually try to be a nicer, more honestly loving christian.
Review by lmathews
16/06/2015
I really enjoyed this book by Miller. He can really minister to certain groups of people with this book and I really agree with alot of the things he says. Fundamentalists would cuss him to his face, but he says some great things. Living for Jesus isn't being a republican and going to church according to Miller. Read it and hear what he has to say.
Also by Professor Donald Miller | View all