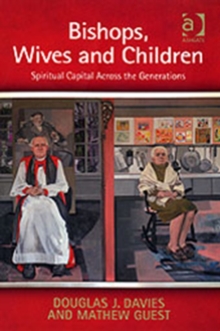 Bishops, Wives and Children : Spiritual Capital Across the Generations
Hardback
Description
Christianity as a cultural force, whether rising or falling, has seldom been analysed through the actual processes by which tradition is transmitted, modified, embraced or rejected.
This book achieves that end through a study of bishops of the Church of England, their wives and their children, to show how values fostered in the vicarage and palace shape family, work and civic life in a supposedly secular age. Davies and Guest integrate, for the first time, sociological concepts of spiritual capital with anthropological ideas of gift-theory and, alongside theological themes, use these to illuminate how the religious professional functions in mediating tradition and fostering change.
Motifs of distant prelates, managerially-minded fathers in God and rebellious clergy children are reconsidered in a critical light as new empirical evidence offers unique insights into how the clergy family functions as an axis of social power in an age incredulous to ecclesiastical hierarchy. Bishops, Wives and Children marks an important advance in the analysis of the spirituality of Catholic, Evangelical and Liberal leaders and their social significance within a distinctive Christian tradition and all it represents in wider British society.
Information
Format: Hardback
Pages: 228 pages
Publisher: Taylor & Francis Ltd
Publication Date: 21/05/2007
Category: Research methods: general
ISBN: 9780754654858
Also by Professor Douglas J. Davies | View all