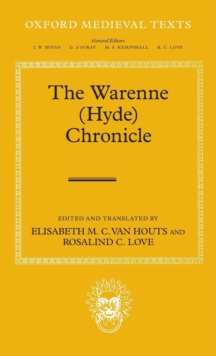 The Warenne (Hyde) Chronicle
Hardback
Description
The Warenne Chronicle is the more appropriate name for the Latin text known as the Hyde Chronicle.
It covers the period from 1035 - the year in which Robert the Magnificent, duke of Normandy, died - up to the account of the White ship disaster in November 1120 when William Adelin, eldest son and heir of King Henry I, lost his life at the age of eighteen.
The chronicle therefore covers the history of Normandy and England around the Norman Conquest of Englandwith special reference to the earls of Warenne in Normandy. It is not a full blown dynastic history of this aristocratic family, but rather a historical narrative that emphasises the loyal support of the earls to the Norman rulers. The crucial question as to how far the Warenne chronicler may have covered the years beyond 1120 is impossible to settle definitively. The new argument put forward here is that the Warenne Chronicle was written early in the reign of King Henry II, probably shortly after 1157, for King Stephen's son William and his wife Isabel, heiress of Warenne, to provide an account of the invaluable help her ancestors had given to the Anglo-Norman rulers. Although the chronicle has survivedanonymously, the suggestion is made that the author may have been Master Eustace of Boulogne, clerk and chancellor of William of Blois as fourth earl of Warenne.
Unique information, other than that pertaining to the Warennes, concerns the commemoration of Queen Edith/Matilda, Henry I's rule in western Normandy, andthe use of the word 'normananglus' (Norman-English) for the inhabitants of England of Norman origin.
Information
Format: Hardback
Pages: 216 pages, 5 black and white illustrations
Publisher: Oxford University Press
Publication Date: 21/03/2013
Category: British & Irish history
ISBN: 9780199665204
Free Home Delivery
on all orders
Pick up orders
from local bookshops
Also in the Oxford Medieval Texts series | View all