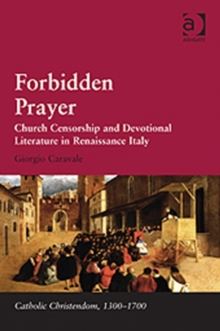 Forbidden Prayer : Church Censorship and Devotional Literature in Renaissance Italy
Hardback
Description
This book delineates the attempt, carried out by the Congregations of the Inquisition and the Index during the sixteenth and early seventeenth century, to purge various devotional texts in the Italian vernacular of heterodox beliefs and superstitious elements, while imposing a rigid uniformity in liturgical and devotional practices. The first part of the book is focused on Rome's anxious activity toward the infiltration of Protestant ideas in vernacular treatises on prayer meant for mass consumption.
It next explores how, only in the second half of the sixteenth century, once Rome's main preoccupation toward Protestant expansion had subsided, the Church could begin thinking about a move from a rejection of any consideration of the merits of interior prayer to a recovery and acceptance of mental prayer.
The final section is dedicated to the primary objective of the Church's actions in purging superstitious practices which was not simply the renewal of the spiritual life of the faithful, but also the control of the religious and social life of many faithful who were uneducated. Based on a careful examination of the archival records of the two Roman dicasteri in question, many of which have only been accessible to scholars since 1998, as well as a close reading of the many of suspect devotional texts themselves, this book offers a fascinating contribution towards a fuller appreciation of the complex landscape that characterized the spiritual realities of early modern Italy.
Information
Format: Hardback
Pages: 308 pages
Publisher: Taylor & Francis Ltd
Publication Date: 28/01/2012
ISBN: 9781409429883
Free Home Delivery
on all orders
Pick up orders
from local bookshops
Also by Professor Giorgio Caravale