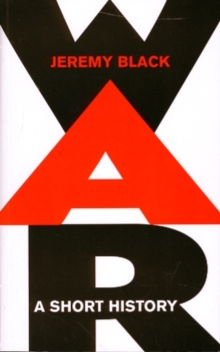 War : A Short History
Paperback / softback
Description
This is the definitive introductory study of war. Professor Black introduces the subject in a broad manner, ranging across historical time periods and geographical boundaries.
In this concise history of war, Jeremy Black ranges widely, giving due attention to non-western as well as western traditions.
The history of war is inextricably bound to the history of the world.
Through a detailed exploration of 'world-scale' issues of warfare, presented within a chronological framework that spans human history, Jeremy Black skilfully illustrates this fact whilst providing the reader with other astute insights and compelling interpretations of war. "War: A Short History" is a dramatic move away from the formulaic, western approach to military history.
Too narrow in its focus on wars specific to the west and too simple because of an over-reliance on a technologically-deterministic reading of warfare, this approach has been rejected by Jeremy Black in favour of a global model that takes all factors into account when considering the strengths and weaknesses of a particular military tradition. This is a book that is as important for its relevance to current world issues of conflict as it is for its through consideration of a monumentally significant aspect of human history.
Information
Format: Paperback / softback
Pages: 192 pages
Publisher: Continuum Publishing Corporation
Publication Date: 26/04/2010
Category: Military history
ISBN: 9781441155412
Also by Professor Jeremy Black | View all