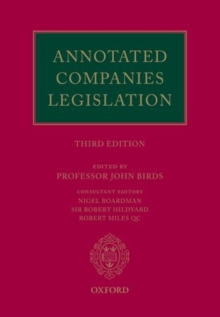 Annotated Companies Legislation
Paperback / softback
Description
Annotated Companies Legislation is the only single volume commentary with a complete set of company law materials.
It draws together in one place all you need to know about the legislation with substantive and high-quality commentary in a section-by-section format.
With a high quality author team from a mix of disciplines, this guide to the Companies Act 2006 and surviving parts of older legislation is easy to navigate and value for money.
AnnotatedCompanies Legislation has also recently been cited in the High Court judgment Eckerle & Ors v Wickeder Westfalenstahl GmbH & Anor [2013] EWHC 68 (Ch) (23 January 2013). _ The third edition provides up-to-date analysis on all recent developments and new case law such as Bain v The Rangers Football Club plc [2011] CSOH 158.
By popular demand the book now includes the whole of Part VI of the Financial Services and Markets Act 2000 with detailed commentary on the prospectus provisions.
The commentary to section 894 has been updated to refer to the likely changes resulting from the proposed amendments to CA 2006, Part 25 which will introduce a UK widesystem of registration for company charges.
Part 15 and the relevant commentary has been significantly amended to cover the increased exemptions from audit for small companies. This one-stop resource provides guidance on the interpretation of the law and the impact of changes made by the Companies Act 2006 by reference to case law, Hansard and Committee Reports, as well as including copies of all substantive secondary material.
Usability is enhanced for quick and easy research with the inclusion of derivation and destination tables easing navigation around the 2006 regime, and the book is organised according to the topics covered in the Parts of the 2006 Act, withparagraph numbers referencing the Parts and sections of the Act, designed with the user in mind. The third edition continutes to be a much-needed fresh commentary on the companies legislation.
It provides a single, convenient and portable volume and is the complete companion to company law for all corporate, M&A, and insolvency lawyers.
Information
Format: Paperback / softback
Pages: 2032 pages
Publisher: Oxford University Press
Publication Date: 15/03/2013
Category: Company law
ISBN: 9780199677696
Free Home Delivery
on all orders
Pick up orders
from local bookshops