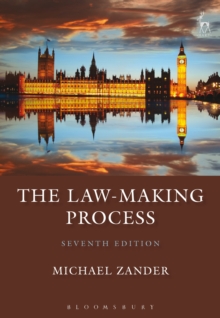 The Law-Making Process
Paperback
Description
As a critical analysis of the law-making process, this book has no equal.
For more than three decades it has filled a gap in the requirements of students in law or political science taking introductory courses on the legal system and is now in its 7th edition.
It deals with every aspect of the law-making process: the preparation of legislation; its passage through Parliament; statutory interpretation; binding precedent; how precedent works; law reporting; the nature of the judicial role; European Union law; and the process of law reform.
It presents a large number of original texts from a variety of sources - cases, official reports, articles, books, speeches and empirical research studies - laced with the author's informed commentary and reflections on the subject.
This book is a mine of information dealing with both the broad sweep of the subject and with all its detailed ramifications. "In a crowded market place Zander's latest edition of The Law-Making Process stands out like a beacon in the fog.
Well chosen extracts from stimulating texts enable the neophyte student of the law making process in England and Wales to grapple with the issues of the hour with a forcefulness and insight we have long come to associate with the author.
Highly recommended." Professor Alan Paterson "Law-making is important, fascinating, and fun. This new edition of Michael Zander's stimulating book on law-making brings that out. It takes account of the many developments since the 6th edition in 2004, ranging across the work of the Law Commission, parliamentary scrutiny of Bills, the relationship between our courts and the European Court of Human Rights, the EU, and many other matters. Well chosen extracts and thought-provoking commentary help law and politics students at every level to understand the raw material with which they work, and make more experienced practitioners and academics look afresh at topics we thought we understood.
I recommend it highly." Professor David Feldman"As counsel, judge and now cross-bencher in the House of Lords I have been taking part in the law-making process for over fifty years.
In explaining to me what I have been up to, Michael Zander both informed and amused.
Not only does he deal in detail with every aspect of the law-making process, but he has assembled a rich cornucopia of commentary from a wide variety of sources.
He has shown a degree of self-restraint in expressing his own views, though his use of an adverb made them pleasingly plain when he stated "On 3 October, 2014, the Conservative Party published an 8 page document, brazenly called "Protecting Human Rights in the UK".
I commend this book to anyone who wishes to understand the far from simple way that law is made in this country."Lord Phillips
Free Home Delivery
on all orders
Pick up orders
from local bookshops