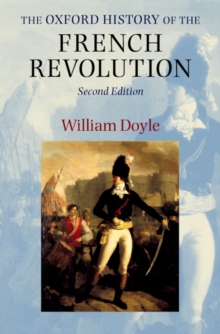 The Oxford History of the French Revolution
Paperback
Description
This new edition of the most authoritative, comprehensive history of the French Revolution of 1789 draws on a generation of extensive research and scholarly debate to reappraise the most famous of all revolutions. Updates for this second edition include a generous chronology of events, plus an extended bibliographical essay providing an examination of the historiography of the Revolution.
Opening with the accession of Louis XVI in 1774, the book traces the history of France through revolution, terror, and counter-revolution, to the triumph of Napoleon in 1802, and analyses the impact of events both in France itself and the rest of Europe.
William Doyle shows how a movement which began with optimism and general enthusiasm soon became a tragedy, not only for the ruling orders, but for the millions of ordinary people all over Europe whose lives were disrupted by religious upheaval, and civil and international war.
It was they who paid the price for the destruction of the old political order and the struggle to establish a new one, based on the ideals of liberty and revolution, in the face of widespread indifference and hostility.
Information
Format: Paperback
Pages: 496 pages, 5 maps
Publisher: Oxford University Press
Publication Date: 28/11/2002
Category: European history
ISBN: 9780199252985
Free Home Delivery
on all orders
Pick up orders
from local bookshops
Reviews
Showing 1 - 4 of 4 reviews.
Review by Suva
16/06/2015
Doyle tells us in his introduction that he was surprised to find that this book has become a standard text on the revolution as it was intended to be a popular work to coincide with the bicentenary of 1989.This may be false modesty on his part but this book certainly did not strike me as courting the popular history market with its scholarly prose and lack of illustrations. Far more striking is the astounding amount of research and insight contained on every page of the book. When you consider Doyle is writing about one of the most contentious, important and complex events in human history his achievement is even more astonishing.This is rightfully regarded as the best overview of the revolution in English and Doyle's conclusion that the revolution can only be seen as a tragedy is as enlightening as it is sobering.
Review by rmacaulay
16/06/2015
I would agree with the other reviewer: : to understand the French Revolution, start here.
Review by samstark
16/06/2015
As far as I can tell, this is one of the definitive contemporary histories, well written and exhaustive, at least on political history. But basically it was too hard for me. If you're super into the French Revolution you probably own this book already; if you're not, I wouldn't recommend it as a place to start, although it might be a good book to keep around the house for reference, I don't know.
Review by jrissman
27/08/2015
"The Oxford History of the French Revolution" by William Doyle is a detailed account of the events that transpired in France leading to the downfall of the monarch Louis XVI, up through the assumption of absolute power by Napoleon. The book's greatest emphasis is on domestic politics within France: the various factions (Jacobins, Girondins, sansculottes, and many others) whose fortunes waxed and waned over time, as well as their policies and activities. Differences throughout France (notably, Paris vs. the countryside) are heavily discussed, as is the class struggle between the nobility, the clergy, and the common people (the "third estate"), who included increasingly powerful merchants and professionals.Doyle frequently mentions important individuals by name and discusses their significant political or military activities. However, the book does not provide a more detailed look at the life or personal characteristics of any person. There is nothing like biography here: this is a high-level history.The Wars of the French Revolution are extensively covered, but military tactics or the course of particular battles or campaigns is not emphasized. Rather, the overall results of particular military actions are summarized, and then their impact on France itself (for example, bolstering a particular faction, or requiring the conscription of more soldiers) gets the most attention. In this way, Doyle differs greatly from a historian like Barbara Tuchman, who focuses on military matters in her histories.While Doyle's book is good overall, I found it dry compared to other history books I've read. The lack of color and personal stories has a serious consequence for the casual student of history: it becomes much harder to remember which groups or individuals stood for what or did what. When they are just names of groups fighting each other in the Legislative Assembly, it is hard to remember exactly what the Girondins, the Montagnards, and others truly believed, who supported them, and which named individuals were members, heroes, or villains to each group. I only finished the book today, and I fear I've already forgotten much of the detail; a year from now, I will not remember who is who or what anyone really wanted. (This is exacerbated somewhat because the Revolution itself was a confusing time, with groups sometimes changing their tactics or views, or taking unlikely, often temporary allies for political expediency.)Doyle makes an argument that the Revolution was the model for many important developments to come, including the use of mass citizenry in armies, the role and activities of "revolutionaries" in societies, and the very notion that revolution is permitted as a last resort when a government does not represent its people. (I'm not convinced by that last claim, considering that the U.S. revolution came first, and the U.S. founding fathers expressed such positions in their works.)In summary, Doyle's book provides a good high-level overview of politics within France and the consequences of the Wars of the Revolution. Doyle's book doesn't include the sort of personal stories, tidbits, and color that serve as memory hooks to help you recall details later, so much of it is forgettable. I don't regret having taken the time to read it, but I might have better enjoyed a good biography of Louis XVI and Marie Antoinette, or Robespierre, or even Napoleon (though his most interesting years came after the Revolution). Best of all would have been a work that walks the reader through the years of the Revolution by telling engaging stories of all the most interesting people who participated in it.
Also by Professor William Doyle | View all