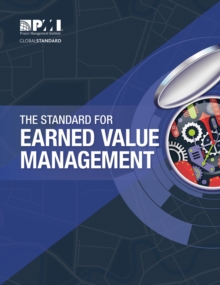 The Standard for Earned Value Management
Paperback / softback
Description
Earned value management (EVM) is a management methodology for integrating scope, schedule, and resources; objectively measuring project performance and progress; and forecasting project outcome.
It is considered by many to be one of the most effective performance measurement and feedback tools for managing projects.The Standard for Earned Value Management builds on the concepts for EVM described in the Practice Standard for Earned Value Management and includes enhanced project delivery information, by integrating concepts and practices from the PMBOK (R) Guide - Sixth Edition and The Agile Practice Guide.A central theme in this standard is the recognition that the definition for value in EVM has expanded.
While the term retains its traditional definition in terms of project cost, it embraces current practice by including the concept of earned schedule.
This standard also integrates hybrid methodologies that blend together historical EVM concepts with the needs of the agile practitioner, all with an eye towards aiding the project team in enhancing overall project delivery.This standard is a useful tool for experienced project management practitioners who are seeking to expand and update their knowledge of the field as well as less experienced practitioners who want to learn other approaches for managing project performance.
It provides insight and detailed explanations of the basic elements and processes of EVM, and demonstrates how to scale EVM to fit varying project sizes and situations.
This standard includes graphical examples and detailed explanations that will enable the reader to establish and implement EVM on projects in almost any environment and of almost every size.
When used together with good project management principles, EVM methodology will provide a greater return on any project and results that will directly benefit your organization.
Information
Format: Paperback / softback
Pages: 150 pages
Publisher: Project Management Institute
Publication Date: 28/02/2020
Category: Economics
ISBN: 9781628256383
Also by Project Management Institute | View all