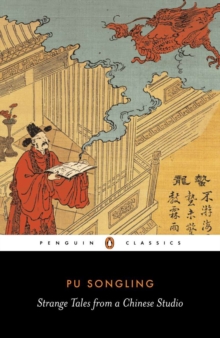 Strange Tales from a Chinese Studio
Paperback
Description
The Strange Tales of Pu Songling (1640-1715) are exquisite and amusing miniatures that are regarded as the pinnacle of classical Chinese fiction.
With their elegant prose, witty wordplay and subtle charm, the 104 stories in this selection reveal a world in which nothing is as it seems.
Here a Taoist monk conjures up a magical pear tree, a scholar recounts his previous incarnations, a woman out-foxes the fox-spirit that possesses her, a child bride gives birth to a thimble-sized baby, a ghostly city appears out of nowhere and a heartless daughter-in-law is turned into a pig.
In his tales of humans coupling with shape-shifting spirits, bizarre phenomena, haunted buildings and enchanted objects, Pu Songling pushes back the boundaries of human experience and enlightens as he entertains.
Information
Format: Paperback
Pages: 608 pages, Illustrations, maps
Publisher: Penguin Books Ltd
Publication Date: 25/05/2006
Category: Classic fiction (pre c 1945)
ISBN: 9780140447408
Other Formats
EPUB from £2.99
Paperback / softback from £10.99
Paperback from £9.95
Free Home Delivery
on all orders
Pick up orders
from local bookshops
Reviews
Showing 1 - 3 of 3 reviews.
Review by rboyechko
16/06/2015
The book contains a collection of a little over 100 tales from Pu Songling's original 500 , which is rather unfortunate, as I would love to read all of them. I was hooked from the very first tale and took every opportunity to read more. Granted, some tales are mere curiosities that I don't find particularly appealing (for example, an account of a man with a dozen frogs that were trained to croak on cue and in "perfect pitch"), but most were enthralling. The tales have a broad range of subjects, although most were dealing with either fox-spirits or ghost, yet every one was different and unique.The translator's preface was good as well and helped to put things in the proper perspective. The notes and a glossary at the back also are great for those, like myself, not familiar with the broader Chinese literature. The only complaint I have -- and even that is more my fault than the editor's -- is that I didn't realize there were notes until I was practically done with the book. It would have been helpful to have footnote-style annotation in the text of the tales to give some indication that this particular line/word is explained in the notes. As things stand, if you run across something that you don't understand, you just have to flip to the back and hope there is a note about it. That said, the notes are thorough and provide a lot of added content.
Review by xuebi
16/06/2015
An excellent selection of "weird tales" by the master of Chinese weird fiction. Since being first written, Pu Songling's Strange Tales have been the benchmark for this genre, and also the standard for Classical Chinese fiction. Some tales are short, but perfectly conjure up bizarre creatures and haunted places; others are longer, with well-developed characters and plots. John Minford has translated these tales expertly and provides ample notes and background to both Pu Songling's life and times, and the genre itself.
Review by BayardUS
16/06/2015
This collection of over one hundred stories was a fun and quick read for me, despite the fact that some of the story features get repetitive and few stories stood out from the herd. the introduction explains that the collection consists of two types of tales: one type is actual stories, with beginning, middle, and end as well as a theme and often times a lesson. The other type is just bizarre occurrences that Pu Songling heard about and recorded. The latter kind provides short breaks between the former kind, and both are amusing, but few individual stories of either type grabbed my attention or impressed me. If someone were to ask me about this book in a few years I would remember it as a collection of stories about fox spirits and ghosts, most of which only seemed interested in seducing humans, but that will probably be about all. One or two tales might stick with me, like the wonderfully bizarre story of a man cursed with blindness whose pupils decide to leave his eyes, or the humorous story of a dandy who pretends to hang himself in order to make a girl laugh, only to actually choke himself to death, but the vast majority of the tales aren't memorable. Despite this, reading the collection was a lot of fun, and I found it much more accessible than most Chinese literature. Thus I rate this collection four stars. If ghost stories or Chinese folklore is your thing then by all means give this one a read.